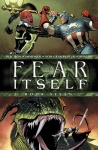 Comic Con News—Marvel made a number of key announcements at its Sunday "Fear Itself Panel" including explaining (sort of) what would be happening in the wake of the current Fear Itself event. After displaying the cover of the final issue (#7) of Fear Itself in which Cap is taking on Sin, the daughter of the Red Skull, on the top panel while a truly gigantic serpent dominates the bottom, the Marvel grandees led by Senior Editor Steve Wacker, SVP of Talent Management C.B. Cebulski, and writers Chris Yost and Scott Spencer proceeded to talk about what happens in the wake of the titanic conflict that is currently dominating the Marvel Universe.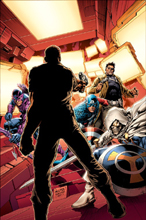 The immediate after effect of
Fear Itself
will be
Fear Itself Aftermath: Battle Scars
, which will be written by Matt Fraction, Chris Yost, and Cullen Bunn and drawn by Scott Eaton, and which will introduce a new (as-yet-unrevealed) character who will soon be the object of everyone's attention. The
Battle Scars
branding will also extend to a number of
Shattered Heroes
one-shots that will focus on Captain America, Thor, and Iron Man as these characters attempt to put their lives back together after coping with the events of
Fear Itself
.
Perhaps the biggest news of the panel was the official announcement of
The Fearless
, a 12-issue, bi-weekly series by Fraction, Yost, and Bunn that debuts in November and is on the cover of the just released (online) edition of Diamond's
Previews.
Bunn, who just signed just signed an exclusive agreement with Marvel, "will be doing the heavy lifting" on this series, which will focus on what happens to the powerful hammers introduced in
Fear Itself
.
The Fearless
, which will be a wide-ranging series, was described at the panel as "a world tour of the Marvel Universe post-
Fear Itself
."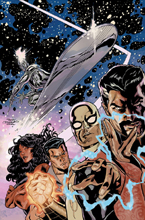 For his part, Fraction will be busy writing a new
Defenders
series, which will debut in December. Terry Dodson, who worked with Fraction on
Uncanny X-Men
, will provide the art for the new
Defenders
, which will attempt to prove that
The Defenders
are a unique and special unit in the Marvel Universe as they seek to expose an ancient conspiracy that remains a menace in the present. This version of
The Defenders
team will include the Red She-Hulk, Iron Fist, Silver Surfer, Doctor Strange and Namor, but the cast will not necessarily be limited to those characters.