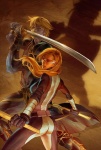 Comic-Con News—Marvel's Head of Television Jeph Loeb has announced that a live-action TV series at ABC Family focusing on Barbara "Bobbi" Morse aka Mockingbird is in development. The heroine of the Mockingbird TV show was described as a "Peter Parker'type nerd" who is recruited to a secret intelligence organization. It appears as if the TV show will focus on Mockingbird at the very beginning of her career.
In the comics Mockingbird is skilled S.H.I.E.L.D. agent, who returned from the dead in Secret Invasion and has appeared frequently in the New Avengers and most recently received an injection of a combination of the Super Soldier Serum and the Infinity Formula in Fear Itself.
The
Mockingbird
project joins a roster of Marvel TV series that includes
AKA Jessica Jones,
which is also in development at ABC Family and is based on Brian Michael Bendis' Marvel MAX comic
Alias
(see "
TV Show Based on Bendis' Alias
"), and two other live action series,
Hulk
, which is focused on the love story between Bruce Banner and Betty Ross, and
Cloak and Dagger
, another series in development for ABC Family, which is set in post Katrina New Orleans and features two superpowered teenagers who "find that their powers both complement and complicate their lives" (see "
Hulk on TV
").
At Comic-Con Marvel also announced a new animated series,
Hulk: Agents of SMASH
that is in development at Disney XD (see "
Hulk: Agents of SMASH
"), the cable channel where the new animated series
Ultimate Spider-Man
will debut this fall.