With both the comic market and the box office down so far in 2011 it is not surprising that publishers and studios are employing a number of very different strategies in attempts to energize the markets. At the massively attended San Diego Comic-Con publishers and studios tend to play to their base, so success in sunny seaside southern California does not necessarily equate to comic sales in Cleveland or a holiday season trip to the movie theater in Seattle. Even though Steven Spielberg, Peter Jackson and their Tintin clips were met with rapturous applause (see "
Spielberg Wows Comic-Con Audience
"), it doesn't mean that come December theaters will be packed with crowds eager to watch the adventures of Herge's intrepid reporter.
It's not any easier picking the winners among the comic book publishers as this survey of some of the most important publisher announcements of the show will attest. DC Comics, which has adopted the boldest strategy for attacking the recession in periodical comic sales by basically revamping its entire line, has dominated news in the comic publishing arena in the 6-8 weeks leading up to San Diego with the announcements of new creative teams for key titles and drastic changes for some of its iconic characters (see "
Supes and Lois Never Happened
"). All that pre-Comic-Con stuff didn't leave much in the way of new announcements for DC, but its panels were well-attended and a planned protest of fans against the New DCU was a pathetic bust demonstrating that social media (it was "organized" on Facebook) isn't always that effective in galvanizing disaffected groups.
With few substantive announcements to make other than the diversity-enhancing Asian origin of the new Atom and the inclusion of Lady Luck in the new
Justice League
, the biggest news items generated by DC were the launching of a new Fables spin-off,
Fairest
(see "
The Fairest: A New Fables Spin-Off"
) and the decision by DC and Warner Animation to adapt Frank Miller's
The Dark Knight Returns
into a direct-to-DVD animated feature (see "
Miller's The Dark Knight Returns Gets Animated
"). DC used Comic-Con as a platform to explain the rationale for the transformation of its line, and it appears that the message was, by and large, well received. The real test doesn't begin until September, and the verdict on DC's gamble might not be apparent until this time next year.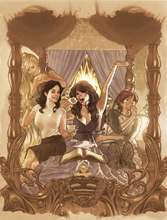 Industry leader Marvel has taken a more conventional tack in its approach to the market, though it did end and then reboot its long-running
Uncanny X-Men
series (see "
Marvel Replaces Uncanny X-Men With Two Titles
"). Marvel's big reveals included bringing back the
X-Men
character Cable from the dead (see "
Jeph Loeb and Ed McGuinness to Resurrect Cable
"), a new
Hulk
series by the somewhat unlikely team of Jason Aaron and Marc Silvestri (see "
Jason Aaron & Marc Silvestri on Hulk #1
"), and a new
Defenders
book by Matt Fraction and Terry Dodson (see "
Marvel Saves the Best for Last
"). Comic-Con was more "business as usual" for Marvel as the publisher detailed what would happen in the wake of its current
Fear Itself
event, which turns a good portion of the heroes in the Marvel universe into the walking wounded, as can be seen in the titles for the post-
Fear Itself
books such as
Battle Scars
and
Shattered Heroes
. But given the indomitable spirit of comic book heroes, it should come as no surprise that the title of Marvels 12-issue, bi-weekly follow-up to
Fear Itself
is
The Fearless
(see "
Marvel Saves the Best for Last
").
Marvel's movie arm, Marvel Studios, didn't have a big Hall "H" show this year. It didn't have to. The stronger-than-expected launch of
Captain America: The First Avenger
over the Comic-Con weekend cast a red, white, and blue glow over Marvel's image. In the face of movie industry analyst's predictions of the demise of superhero movies (see "
Studios Told to Prepare for 'The Death of Superheroes'
") all three of the Marvel Comics-based superhero movies that were released this summer appear to be hits. This stands in stark contrast to the situation at Warner Bros. and DC where the expensive gamble to create a franchise based on
Green Lantern
has to be seen as a bust.
Marvel might even be poised to outperform DC in the one live-action arena where DC has long ruled, television, depending on the fate of a number of new shows in development for Marvel's new Television department (see "
Mockingbird Added to Marvel TV Roster
").
Marvel has clawed its way to near parity in TV animation, and might even take the lead in the field this fall if
The Ultimate Spider-Man
lives up to its promise. Marvel made the only Comic-Con announcement of a new Saturday morning-type animated TV series with news of the development of a new
Hulk
toon at Disney XD (see "
Hulk and the Agents of S.M.A.S.H.
").
Just as Marvel Comics draws strength from the success of its properties in other media, so Image Comics manages to keep basking in the glow created by the successful TV series based on Robert Kirkman's The Walking Dead. Kirkman has in fact become the creative center of Image. The example of his success and the company's emphasis on its "creator-owned" roots could bring about a major revival at a company, which over its history has slipped from being a major third force in the industry to being just another mid-tier publisher.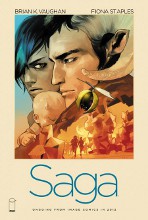 Image made a big splash at Comic-Con with announcements like
Saga,
a new science fiction series from
Y: The Last Man
creator Brian K. Vaughan (see "
Brian K. Vaughan's Saga
"), Jonathan Hickman's
The Manhattan Projects
and
Secret,
Kirkman's bi-continental Album (see "
New Creator-Owned Titles at Image
"), and
Thief of Thieves
(see "
Kirkman & Spencer Adopt a Writer's Room Approach
"), and a revival of Howard Chaykin's
Black Kiss
. If Image can solve its production and marketing problems and actually deliver these titles and its current lineup, which includes series with enormous potential like
Chew
and
The Walking Dead
, on time with decent marketing support, the company is poised for major growth.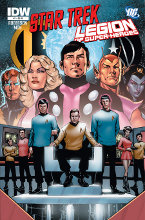 The other mid-tier publisher that made a major splash at Comic-Con was IDW Publishing, which unleashed the major surprise of the show with its
Star Trek/LOSH
crossover (see "
Star Trek/Legion of Superheroes Crossover
"). IDW is also involved in the even more bizarre pairing of
Archie
and ageless rock band
Kiss
(see "
Kiss Returns to Comics With Archie & IDW
"). In addition to a new
Kiss
comic, IDW is publishing new
Crow
, and
Popeye
books (see "
IDW Announces New Crow & Popeye Comics
"), a new
Frankenstein
comic from Bernie Wrightson and Steve Niles, a horror comic based on the
Dead Rising
zombie-themed video game (see "
IDW Announces Comic Based on Zombie Video Game
"), and deluxe artist's editions featuring John Romita, Sr.'s
Spider-Man
and Will Eisner's
The Spirit
.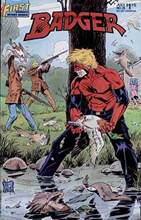 In contrast Dark Horse made fewer announcements, but the Portland, Oregon-based publisher appears to be increasingly sure of its market niche as a purveyor of licensed genre comics with broad appeal (
Star Wars
&
Buffy
), cutting-edge books with considerable hipster cache, and market-expanding titles with strong ties to the book market. The comic adaptations of Guillermo del Toro and Chuck Hogan's
The Strain
(see "
Dark Horse to Publish Comic of Del Toro's The Strain
") and P.C. Cast's
House of Night
(see "
Dark Horse Announces House of Night
") clearly fall in the last category, while
Orchid
written by Tom Morello of Rage Against the Machine should appeal to the band's politically aware audience (see "
Tom Morello's Orchid
").
Dark Horse also has been able to get its properties made into movies for a very long time, something that has paid off handsomely with titles such as Frank Miller's
300
. At Comic-Con Dark Horse announced that Chris Grine's graphic novel
Chickenhare
was in development as an animated feature film (see "
Comic Con Movie Deals Trend to the Generic
"). Other Comic-Con news involved
Dodgeball
creator Rawson Thurber, who is rewriting the script for a movie adaptation of
The Umbrella Academy
, a Dark Horse series created by My Chemical Romance front man Gerard Way (another example of Dark Horse's connection to the hipper side of the music scene).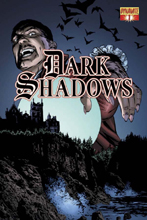 Dynamite, which has a number of titles with media tie-in potential including
a Game of Thrones
series that debuts this fall and should benefit from the success of the HBO series, several series based on Edgar Rice Burroughs
Barsoom
novels that inspired Pixar's
John Carter
, and a
Lone Ranger
comic that should benefit from the
Lone Ranger
movie that is currently in production, added another comic with considerable media potential, a
Dark Shadows
comic (see "
Dark Shadows Comics Return
"). Johnny Depp, who is starring as Tonto in
The Lone Ranger
, will likely play Barnabas Collins in
Dark Shadows
.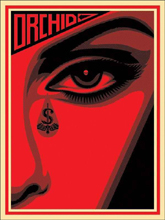 Some of the other publisher announcements include
Fanboys vs. Zombies
from Boom! Studios, a
The Sixth Gun
miniseries based on the Oni Press comic is in development at Syfy, and First Comics is returning to the comics market with a lineup that
includes E-Man
and
The Badger
.
Smaller publishers who know how to press the right media buttons can make a lot of publicity hay and no one does it better than Archie Comics, which made headlines at San Diego by indicating that Riverdale's gay character Kevin Keller would be married in a future storylines (see "
Gay Marriage Next for Kevin Keller
").