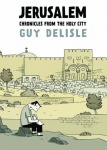 In the spring of 2012 Drawn and Quarterly will publish Jerusalem: Chronicles From the Holy City, the latest exercise in travelogue graphic novel journalism by Guy Delisle, the author of Pyongyang: A Journey in North Korea (2007), Shenzen: A Travelogue From China (2006), and most recently Burma Chronicles (2010). D&Q has sold 60,000 copies of Delisle's Pyongyang, which has become one of the definitive reference books on North Korea.
A spokesperson for Drawn & Quarterly told ICv2 that a first printing of 30,000 copies was planned for Jerusalem: Chronicles From the Holy City, which provides some idea of the popularity of Delisle's travelogues, which are the graphic novel equivalents of the highly perceptive travel writings of Bruce Chatwin and Paul Theroux. Like Chatwin Delisle mixes the personal and the political and expresses his insights with a deceptively simple linear style that conveys a lot of information. He also always manages to convey a sense of both the place and the people who inhabit it. Drawn & Quarterly plans on supporting the release of Jerusalem: Chronicles From the Holy City with a "full North American tour."
Delisle's Jerusalem: Chronicles From the Holy City recounts his visit to Israel during a three-week military incursion into Gaza sparked by rocket attacks on Israeli outposts that resulted in escalating tensions and the death of over 1,000 Palestinians.