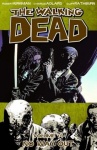 Robert Kirkman's
The Walking Dead Vol. 14: No Way Out
topped the list of Adult Graphic Novels Sold in Bookstores in July. The latest volume in Kirkman's zombie series, which is supported by a popular series on the AMC cable channel, debuted on June 21st and was #2 on the Nielsen BookScan list for June (see "
Naruto Back on Top in June
").
Viz Media's Naruto Vol. 51 slipped to fourth behind Kanoko Sakurakoji's popular shojo series Black Bird Vol. 9 (also Viz Media) and Black Butler Vol.6 from Yen Press. As was the case in June manga dominated the list with 13 of the top 20 titles. Viz Media, which had 10 of the 13 manga on the list in June, was the top manga publisher again in July with 6, but Yen Press was right behind with 5 books, and Kodansha and Seven Seas each had one. Mention should be made of Blue Exorcist Vol. 1, which has been in the top 20 every month since it debuted in April and appears to be another hit for Viz Media.
BookScan Top 20 Graphic Novels in July 2011

Rank

Title

Author

Publisher

1

THE WALKING DEAD VOL. 14

ROBERT KIRKMAN

IMAGE COMICS

2

BLACK BIRD VOL. 9

KANOKO SAKURAKOJI

VIZ MEDIA

3

BLACK BUTLER VOL. 6

YANA TOBOSO

YEN PRESS

4

NARUTO VOL. 51

MASASHI KISHIMOTO

VIZ MEDIA

5

ROSARIO+VAMPIRE SEASON II VOL. 5

AKIHISA IKEDA

VIZ MEDIA

6

DC COMICS: THE ULTIMATE CHARACTER GUIDE HC

BRANDON T. SNIDER

DK PUBLISHING

7

YU-GI-OH! 5D'S VOL. 1

MASAHIRO HIKOKUBO

VIZ MEDIA

8

VAMPIRE KNIGHT VOL. 12

MATSURI HINO

VIZ MEDIA

9

NEGIMA! MAGISTER NEGI MAGI VOL. 30

KEN AKAMATSU

KODANSHA COMICS

10

MARVEL AVENGERS: THE ULTIMATE GUIDE HC

ALAN COWSILL

DK PUBLISHING

11

SCOTT PILGRIM VOL. 1

BRYAN LEE O'MALLEY

ONI PRESS

12

BLUE EXORCIST VOL. 1

KATO KAZUE

VIZ MEDIA

13

HIGHSCHOOL OF THE DEAD VOL. 3

DAISUKE SATO

YEN PRESS

14

BLOOD WORK: AN ORIGINAL HOLLOW GRAPHIC NOVEL

KIM HARRISON

DEL REY BOOKS

15

MAXIMUM RIDE: THE MANGA VOL. 4

JAMES PATTERSON

YEN PRESS

16

LOCKE & KEY VOL. 4 HC

JOE HILL

IDW PUBLISHING

17

PANDORA HEARTS VOL. 6

JUN MOCHIZUKI

YEN PRESS

18

THE GRIFF: A GRAPHIC NOVEL

CHRISTOPHER MOORE

WILLIAM MORROW

19

DANCE IN THE VAMPIRE BUND VOL. 10

NOZOMU TAMAKI

SEVEN SEAS

20

SOUL EATER VOL. 6

ATSUSHI

YEN PRESS
Two volumes from DK Publishing that are not graphic novels, DC Comics: The Ultimate Character Guide and Marvel Avengers: The Ultimate Character Guide both made the list in July. The DC volume actually debuted in July, but the Avengers Guide bowed last September and obviously got a boost from the release of its DC counterpart. These "guides" were the only superhero books that made the list in July.
In addition to the perennials among the American titles (The Walking Dead and Scott Pilgrim) there were three new non-manga graphic novels including Del Rey's Blood Work: An Original Hollows Graphic Novel written by Kim Harrison, creator of the Hollows urban fantasy series, which landed at number 14, Joe Hill's fourth Locke & Key graphic novel collection from IDW, Keys to the Kingdom, which ended up at #16, and The Griff: A Graphic Novel written by bestselling author Christopher Moore and screenwriter Ian Corson and published by William Morrow.
All three newcomers are genre titles. Blood Work is an urban fantasy, Locke & Key: Keys to the Kingdom is a wonderful horror series, and The Griff is an alien invasion saga. Of the three only Locke & Key is based on an ongoing comic book series.