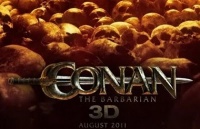 As predicted by its rare "A+" CinemaScore last weekend, The Help followed in the footsteps of another female-skewing August released book adaptation, The Blindside, and took the #1 spot a week after opening at number two. Newcomers Conan the Barbarian and Fright Night both disappointed as The Help declined just 21% as it earned an estimated $20.5 million and brought its twelve-day total to $71.8 million. The failure of any of four new films to crack the top 2 spots led to a disappointing 2% decline from the same weekend last year and broke a string of five straight year-over-year box office victories.
Weekend Box Office (Studio Estimates): August 19 - 21, 2011

Film

Weekend Gross

Screens

Avg./

Screen

Total Gross

Wk#

1

The Help

$20,479,000

2,690

$7,613

$71,801,000

2

2

Rise of the Planet of the Apes

$16,300,000

3,471

$4,696

$133,764,000

3

3

Spy Kids: All the Time in the World

$12,020,000

3,295

$3,648

$12,020,000

1

4

Conan the Barbarian (2011)

$10,000,000

3,015

$3,317

$10,000,000

1

5

The Smurfs

$8,000,000

3,057

$2,617

$117,745,000

4

6

Fright Night (2011)

$7,900,000

3,114

$2,537

$8,300,000

1

7

Final Destination 5

$7,705,000

3,155

$2,442

$32,328,000

2

8

30 Minutes or Less

$6,300,000

2,888

$2,181

$25,762,000

2

9

One Day

$5,128,000

1,719

$2,983

$5,128,000

1

10

Crazy, Stupid, Love.

$4,950,000

1,940

$2,552

$64,420,000

4

Rise of the Planet of the Apes continued its strong run that put it well ahead of Fox's other major summer reboot X-Men: First Class. RotPotA slipped just 41% to an estimated $16.3 million, which brought its domestic cumulative to $133.8 million in `7 days.

Even "Aroma Scope" (scratch-n-sniff cards that gave the film a 4th dimension) couldn't help Robert Rodriguez' Spy Kids: All the Time in the World, which opened with a mediocre $12 million with 44% of its revenue coming from 3-D and aroma-enhanced locations. Sixty-five percent of Spy Kids 4's audience was under 12 years old, and 67% was female. The good news for Spy Kids is that it only cost $27 million to produce and it did earn a respectable "B+" CinemaScore.

While Millennium's Conan the Barbarian performed slightly better than 1997's Kull the Conqueror, the Conan reboot's opening weekend estimate of $10 million has to be seen as a major disappointment as it was well below even the low end of expectations and spells trouble for the film that cost upwards of $80 million to produce. The movie was hurt by the lack of a major marketing campaign, and its "B-" CinemaScore doesn't hold out much hope of good word of mouth boosting subsequent weekends' attendance. Ironically the new Conan earned almost exactly the same amount during its opening weekend as Arnold's 1982 Conan, which brought in $9.6 million. But that was back when movies were much less "frontloaded" and that total also represents more than three times as many moviegoers saw the new Conan franchise reboot.

The 13th major action film to debut this summer, Conan the Barbarian certainly met with a certain amount of end-of-the-season audience fatigue. As might be expected the new Conan movie demonstrated limited gender appeal. The best it could do was muster an audience that was only24% female, while 69% of the opening weekend crowd was over 25. Unless the film does well overseas, we can forget about seeing a sequel (or a Red Sonja film). Conan opened at more than 2,100 locations in 3-D, which brought in a respectable 61% of its total.

Another 1980s genre hit revival Fright Night also flopped with a poor $6.1 million opening. This was an especially disappointing bow because of a rather costly and extensive marketing campaign, which only succeeded in proving that not every 1980s property is worthy of reviving.

The other new film, the romantic drama One Day, also bombed with a miniscule gross of just over $5 million. The movie, which stars Anne Hathaway, attracted an audience that was 72% female, and which gave it a mediocre "B-" CinemaScore, which spells "touble" with a capital "T."