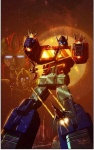 At a press conference on Wednesday, the editor of IDW's Transformers comics, John Barber announced the December publication of The Death of Optimus Prime, a 32-page comic written by Barber and James Roberts with art by Nick Roche. The Death of Optimus Prime represents the culmination of the CHAOS storyline that dominated IDW's Transformers comics during 2011 and saw a wedge driven between the Autobots and their human allies.
During the CHAOS event the setting has shifted to the Transformers' home planet Cybertron and it appears that the long conflict between the Autobots and the Decepticons is finally coming to an end--though that bitter contest will not conclude without some titanic conflicts as the Autobots battle a monstrous amalgamation of Decepticons and Galvatron Sweeps known as the "DeceptiGod."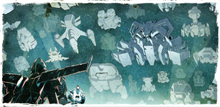 But, though it appears that the Autobots will emerge victorious, there will be a cost, which is what
The Death of Optimus Prime
is all about. The return of thousands of war-exiled Transformers to Cybertron has definite and negative consequences for the Autobot leader who is identified with the conflict that torn the planet apart. When asked if, since a pre-IDW attempt to kill Optimus Prime met with considerable fan resistance and disappointment, the demise of the Autobot leader might be short-lived, Barber refused to reveal any details simply indicating that all options are open.
The Death of Optimus Prime in the comic book world will not have any effect on the Transformers' movie or toy universes. Michael Kelly, Hasbro's Director of Global Publishing, who was in attendance at the press conference, noted that while Hasbro was delighted with the direction that IDW had taken with the Transformers comics, "we very much view this as a separate universe where the comics can have their own continuity and that continuity has literally no impact on the movie universe, which we do consider to be separate."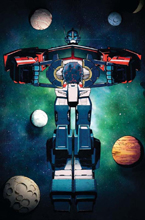 Whatever the length of his demise, Optimus Prime will go out in style with a 32-page funereal issue with two regular covers that will ship in a 4-1 ration (4 photo covers to 1 Nick Roche cover). There will also be two variant covers, one by Livio Ramondelli (a homage to Bill Sienkiewicz' first cover for the Marvel
Transformers
series) and one which is a wraparound featuring the images of all 125 of the IDW
Transformers
covers.
In January IDW will begin two brand new Transformers series, both of which will begin with #1 issues. Transformers: More Than Meets the Eye will be written by James Roberts with art by Nick Roche, and Transformers: Robots in Disguise will feature a creative team of John Barber and Andrew Griffith.