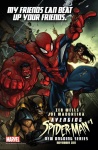 Marvel Comics has announced that it will offer redemption codes for a free digital copy with every print copy of
Avenging Spider-Man
#1 sold through comic stores, a first for a major comic publisher. The book has orders for over 100,000 copies to date, so will be a major test of such a program.
The codes will be redeemable on the Marvel comics iOS app or Chrome store.
In the long run, Marvel sees the program as a potential way to offer additional value to purchasers of all of its $3.99 books, which Marvel says "are demading more value for their purchase."
Consumers who download the free copies will be able to identify the store where they purchased the print copy, which will entitle the retailer to a $.50 bounty, credited through Diamond Comic Distributors.
Marvel also plans to use the download program to support retailers in other ways, including e-mail blasts to consenting download consumers to let them know when the second issue is available in-store. Marvel is also developing several additional programs, including bounties for additional purchases made by customers that identify a retailer as the place they bought the initial book; couponing to digital customers to support in-store sales; and e-mails to digital customers to support in-store events.