The latest screen iteration of Robert E. Howard's Conan debuts on disc on Tuesday hoping to find the kind of success that eluded it in theaters, but it's hardly the only release of interest—there's also Super 8, J.J. Abrams' homage to Steven Spielberg, the latest Doctor Who season, and the North American release of a 1990s animated Tintin series.
Theatrical Releases
Although it likely will not be the bestselling DVD release this week, Conan the Barbarian (Lionsgate, "R," $29.95,BD $37.99, 3-D BD $39.99), Millennium's ambitious attempt to resuscitate the franchise based on Robert E. Howard's Cimmerian hero will be of interest to genre movie fans. Directed by Marcus Nispel and produced for $90 million, this reboot of the Conan franchise does honor the character's pulp fiction roots, but the movie didn't find favor with audiences as it earned only $48.8 million worldwide. It is by and large faithful to the Howard canon, and the producers didn't make the mistake of watering down the bloody barbarian action to get a "PG" rating. If anything Nispel and company went too far the other way. It's not just the gore--it's the jerky editing and ultra-aggressive soundtrack (both sound effects and music) that combine with the rivers of blood to give this Conan film a bludgeoning, ham-handed quality that apparently limited its appeal to hardcore genre movie fans. Unsurprisingly the critics hated the movie (only 23% positive on Rotten Tomatoes), but the failure of this attempt to revive the Conan franchise was unfortunate since Millennium had several other Robert E. Howard projects (including a Red Sonja movie) ready to go, had this Conan movie been able to replicate the box office success of Arnold Schwarzenegger's 1982 Conan film.
The most popular release of the week is likely to be J.J. Abrams' Super 8 (Paramount, "PG-13," $30.99, BD Combo $40.99) an extended homage to the early works of Steven Spielberg (ET, Jurassic Park). Set in a small town in Ohio in 1979 Super 8 features excellent performances from Kyle Chandler (Friday Night Lights) and a bevy of great kid actors. In spite of its derivative storyline, the critics loved Super 8, which earned an 82% positive rating on Rotten Tomatoes. This is the sort of sensitive, feel-good, special effects-laden adventure that is almost certain do land office business on disc. The BD comes with over two hours of extras including 14 deleted scenes, plus features on the train crash, the creation of alien, and more.
Also out this week are Sarah's Key (Weinstein, "PG-13," $29.98, BD $39.99), a holocaust-related saga about an American journalist who uncovers disturbing facts about the deportation of Jews from France during World War II, and The Devil's Double (Lionsgate, "R," $29.98, $39.98), a grim saga about an Iraqi army lieutenant chosen to double for Saddam Hussein's depraved son Uday.
TV on DVD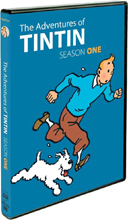 With Stephen Spielberg's adaptation of Herge's
The Adventures of Tintin
already looking strong in its European release it makes perfect sense for the release of this excellent series of 2-D animated adaptation of Herge's timeless tales.
The Adventures of Tintin, Volume 1
(Shout Factory, 300 min., $19.93) includes the first 13 episodes of the French animated series that debuted in 1991 and eventually encompassed 39 half-hour episodes. This conventionally-animated series follows the plots of Herge's graphic novels very closely, employing Herge's character designs and a style that mirrors Herge's "clear line" style.
Other animated TV releases of interest include Conan: The Adventurer—Season 2, Part I (Shout! Factory, 300 min., $19.93) includes 13 more episodes of the 65-episode American animated TV series based on Robert E. Howard's classic sword and sorcery hero that debuted in 1992. The debut of the live-action Conan movie (see above) certainly shouldn't hurt the prospects of this animated version.
Also due this week is The Super Hero Squad Show—The Infinity Gauntlet, Vol. 2 (Shout Factory, 150 min., $14.93), a single-disc, seven episode collection from the second season of the series that features kid-friendly super-deformed iterations of the Marvel heroes. This series, which eventually reached 52-episodes, was based on a Hasbro toy line and aired on the Cartoon Network.
This week's top American live-action TV releases are largely from the "Classics" category and include Arrest and Trial (Timeless Media, 2250 min, $69.98), which collects all thirty 90-minute episode of the 1960s series starring Ben Gazzara and Chuck Connors that combined the police procedural and courtroom drama genres decades before Law and Order. Speaking of "courtroom drama," Perry Mason: The Sixth Season, Part 2 (Paramount, 709 min., $49.99) includes 14 episodes from one of the best lawyer shows ever, while those with an urge to relive the "bell-bottom era" could do worse than McMillan and Wife: The Complete Series (Visual Entertainment, 3240 min., $149.98), and fans of vintage westerns should note the release of The Gene Autry Show: The Complete Second Season (Timeless Media, 734 min., $24.98).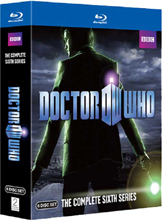 The top TV release of the week comes from the U.K.—
Doctor Who: The Complete Sixth Series
(BBC, 360 min., $79.98, BD $89.98) contains all 13 episodes from the latest season of the revived series (including Neil Gaiman's "The Doctor's Wife") along with plenty of extras including 7 newly filmed scenes that depict what happened between the episodes, plus "Doctor Who Confidential," which provides an inside look at each episode, and "Monster Files," which provides the skinny on the show's most interesting creations.
Another U.K. offering is the "American" export, Law and Order UK: Season 2 (Universal, $39.98) that adapts the American "ripped-from-the-headlines" police procedural to examine jurisprudence in the U.K.
Anime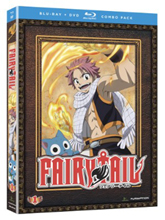 The top release this week is debut of the
Fairy Tale
anime.
Fairy Tale Part I
(Funimation, "14+," 300 min., $54.95), which includes the first 12 episodes of the adaptation (by A-1 Pictures & Satelight) of the popular manga series by Hiro Mashima.
The Fairy Tail
anime debuted in Japan in 2009 and has surpassed 100 episodes in an era of anime production in which there are relatively few new long-running hits. An almost equally potent release with a built-in audience is
Hetalia Axis Powers Movie: Paint It, White
(Funimation, "15+," 90 min. $29.98), the latest release from the quirky franchise that has developed a solid following here in the U.S.
Also new this week (and being released on both DVD and Blu-ray) is Coicent/Five Numbers (Sentai Filmworks, "13+," 60 min., $29.98, BD $39.98), a collection of two interesting science fiction OVAs produced by anime powerhouse Sunrise. Coicent, which was directed by Shuhei Morita, is a romantic comedy adventure set in the 21st Century, while Five Numbers, which was directed by Hiroaki Ando, is a futuristic prison drama that examines the very nature of freedom itself.
For once there are no re-priced, re-releases this week, the only other release is Pokemon Diamond and Pearl: Galactic Battles Box Set 4 (Viz Media, "All Ages," 325 min., $24.92), which includes volumes 7 & 8 of the Diamond and Pearl anime.