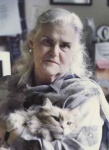 Groundbreaking fantasy author Anne McCaffrey has passed away of a stroke on Monday, November 21, 2011 at her home in Ireland. McCaffrey is best known for the Dragonriders of Pern universe. She authored or co-authored nearly 100 books, with a lot of firsts as a writer:
First woman to win a Hugo Award (1968, for "Weyr Search")
First woman to win a Nebula Award (1969, for "Dragonrider")
First with a science fiction title on the New York Times Bestseller List (1978, The White Dragon)
McCaffrey was recognized as one of the best ever for her impressive career:
Named Grand Master by the Science Fiction Writers of America (2005)
Joined Science Fiction Hall of Fame (June 2006)
The Pern universe was introduced in the award winning short story, "Weyr Search" in Analog Science Fiction and Fact, in 1967. "Weyr Search, the novella "Dragonrider," and a third story were published as the first Pern novel, Dragonflight, in 1968. The initial Dragonrider trilogy was not completed until 1976. McCaffrey began collaborating with her son Todd McCaffrey since 2003.
Fantasy artist Michael Whelan was strongly associated with McCaffrey due to the numerous covers he did for her books. Eclipse published three graphic novels based on Dragonflight in 1991. Mayfair Games produced a Dragonriders of Pern boardgame in 1983.