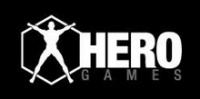 Hero Games, publisher of the Champions superhero roleplaying game, is cutting back to one employee as it enters a "transition period," the company has announced. "The economy's been pretty rough lately, as has the gaming market," the announcement said. "With declining sales and fewer releases, Hero has reached the point where it's no longer possible to maintain a full time staff of three, so it's scaling back."
Darren Watts, President, and Steven Long, Hero System Line Developer, will depart the company as of December 2nd. There's apparently some discussion of the pair producing Hero System products under license.
The only remaining employee at Hero will be Jason Walters, who will continue to ship orders and perform other basic functions. There is one new product complete, Book of the Empress; the company is considering a Kickstarter project to fund its printing.
Watts and Long joined the company in 2002, following an acquisition (see "
New Owners Revive Hero Games
"). Since that time, the company has released 108 books.
But it's been a long time since the heady days of 2002, a year we called the "Year of the Superhero RPG" (see "
Champions Returns in the Year of the Superhero RPG
"), when there were no fewer than four superhero RPGs on the market.
Champions
was the first in the category, but the RPG category has shrunk, and the superhero genre was never the largest, or even the second largest genre for roleplaying games. There is an online version of the game (see "
Champions MMORPG in September
"), which launched in 2009.