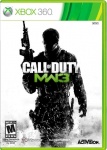 Retail videogame sales in the U.S. declined 8% to $17.02 billion in 2011, dragged down by a 21% year over year drop in December, according to NPD Group as reported by
Gamasutra
. That total includes games, hardware, and accessories.
Some might think that sales of packaged videogames are being replaced by other monetization strategies, including digital, but that was only partially the case. NPD now also releases a total sales estimate for all game content, which includes new game sales, used games, game rentals, subscriptions, downloads, social network games, and mobile games. That total was down 2% from 2010.
NPD also released its bestseller list, which had Call of Duty: Modern Warfare 3 as the top game. Batman: Arkham City was the #7 game in 2011.
This is not solely a U.S. trend. The Japanese retailer videogame market was also down 8% in 2011, according to Famitsu's Enterbrain as reported by
Gamasutra
.
Sales of tabletop hobby games continue to grow in North America, and had a particularly good year in 2011. This continues a trend from last year, in which videogame sales also declined as tabletop hobby games grew. This may be a secular trend, as gamers turn to more face-to-face social gaming instead of gaming with a screen.