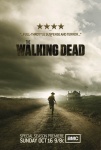 The midseason premiere AMC's The Walking Dead, which is based on the image comic book series created by Robert Kirkman, broke its own records in two key demographic groups sought by advertisers. Last night's episode, which kicked off the second half of the series' sophomore season, garnered 8.1 million viewers, setting new records for a basic cable scripted series for adults 18-49 (5.4 million) and adults 25-54 (4.4 million).
The midseason premiere's total viewers surpassed the series' previous best, the 7.3 million viewers who tuned in for the first episode of the show's second season last October. According to
The Hollywood Reporter
that October episode shatter records that had stood for nearly a decade in the 18-49 (4.8 million) and 25-54 (4.2 million) demos, but ratings for last night's midseason premiere were up 12% in the advertiser-coveted 18-49 demo and 6% in the 25-54 group. Add in the viewers of the repeat showing last night and the total grows to 10.1 million viewers who saw the midseason premiere episode.
The midseason premiere of The Walking Dead was followed by the debut of the unscripted Kevin Smith series, Comic Book Men, which aired at 10 pm (ET, PT) and managed to attract 2.1 million viewers, a number that AMC was very happy with. Naturally AMC is ecstatic over The Walking Dead's ratings. Last month AMC announced that it was expanding the third season of the series to 16 episodes. The first season consisted of six episodes, while the current second season is slated for13.