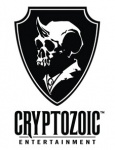 Cryptozoic Entertainment was displaying a placeholder for a new
DC Deck-Building Game
at Toy Fair, one of several products the company was teasing but not officially announcing (for another, see "
Crypto Has 'The Hobbit'
"). The
DC Deck-Building Game
is one product from a new DC license for Cryptozoic, which also includes trading cards. Both are expected to appear in the second half of 2012.
Other licensed products teased by Cryptozoic include trading cards based on the 100th anniversary of Tarzan, and on The Walking Dead Season 2.
Cryptozoic was also beginning to show two new games based on house IP, which will be announced soon.
The company announced that it will be producing the
Castle Board Game
at the show (see "
'Castle' Board Game
").