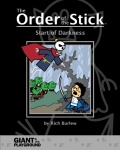 In the most amazing Kickstarter comics project ever, Rich Burlew has raised over $1.25 million from nearly 15,000 backers to fund printing collections of his popular Webcomic Order of the Stick. The original goal was $57,750, so the project was funded at an astounding 2,171% of the goal.
We were impressed when Alex de Campi and Jimmy Broston raised $32,000 to fund Ashes (see "
Ashes' Graphic Novel Funded on Kickstarter
"), but this is on a totally different scale. According to an update from Burlew, the
Order of the Stick
project was the second highest total for a Kickstarter project ever, and the most funded project by an individual (as opposed to a company) in Kickstarter history. Over 25,000 books were pre-sold as part of the funding.
Maybe this whole free comics on the Web thing is going to work out after all.