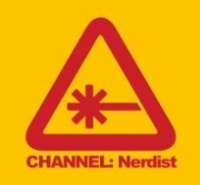 The Nerdist Channel,which launches on April 2nd, went live on YouTube today with a new video featuring Chris Hardwick, who hosts the Nerdist specials for BBC America, and who will act in a similar capacity for the Nerdist Channel on YouTube. In the video Hardwick, who hosts the Talking Dead show for AMC, appears in zombie makeup created by Greg Nicotero, the makeup maven who plays such an important role in the success of The Walking Dead TV series. Those who view the video can subscribe to the channel and get advance information on Nerdist Channel programming covering comics, games, movies, and pop culture.
The fact that the Nerdist Channel is one of the highest profile projects among the 100 new YouTube channels (see "
Geek Culture Key to Streaming Services
") demonstrates once again the steady, inexorable progress of Geek Culture. The Nerdist Channel is prepping all sorts of premium content from Neil Patrick Harris, Rob Zombie,
The Awkward Family Show,
and, for anime and J-Pop fans there will be the aptly-named
Weird S#!T From Japan
.