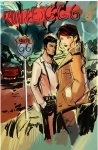 Originally slated for release in December of 2011 and February of 2012 respectively, Marvel Comics' revival of the CrossGen titles Kiss Kiss Bang Bang and Route 666, are no longer "delayed," according to Marvel SVP of Publishing Tom Brevoort, the two planned 4-issue miniseries "have been shelved for the time being." Coming after the November announcement that the two CrossGen titles were "delayed," not cancelled, Brevoort's comment, while not exactly a death knell, certainly doesn't inspire any confidence that the House of Ideas is planning to put any more effort into its CrossGen revival.
Marvel announced its revival of certain CrossGen titles back in 2010 (see "
Marvel Revives CrossGen
), and the first two titles
Ruse
and
Sigil
debuted to OK numbers in March of 2011 with orders of around 28,520 and 28,496 respectively. However by the end of the 4-issue miniseries, circulations had plummeted to 10,532 for
Ruse
and 8,930 for
Sigi
l. A third title
Mystic
debuted in August with orders of 18,783, but its circulation plummeted well below the Mendoza line to 6,002 for issue #4 in November.
Brevoort's comment on the interactive social media site
Formspring
may not be definitive, and material for the espionage series
Kiss Kiss Bang Bang
and the horror comic
Route 666
that has already been produced may be released in some form, but reading between the lines it appears unlikely that Marvel will publish the 4-issue series originally intended for the two titles.