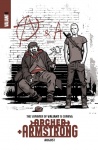 Valiant Entertainment has announced the August release of Archer & Armstrong #1, the fourth title that the new Valiant has revived from the original Valiant comics stable. No information has been released on the creative team for the revival of Archer & Armstrong, which was created by Barry Windsor-Smith in 1992. The "odd couple" pairing of an idealistic young martial artist (Archer) and a jaded, cynical ten thousand year-old near-immortal reprobate was called "the best buddy book of all time" by Ain't It Cool's Harry Knowles.
No word yet either on what sort of incentives that Valiant will create for the launch of
Archer & Armstrong
. Valiant's "Summer of Valiant" begins in May with the release of
X-O Manowar
#1, followed in June by
Harbinger
#1, and then in July by
Bloodshot
#1. Valiant is offering "pullbox" variants as well as an innovative QR code "Voice Variant" (see "
Bloodshot Is the Third Valiant Title
").