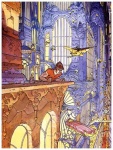 French comics master Jean Giraud, who signed his science fiction works as "Moebius," has died from cancer at the age of 73. One of the most influential comic artists of the 20th Century, Giraud, who was born in Nogent-sur-Marne in 1938, had little formal artistic training. In 1961 became the apprentice of Jije (Joseph Gillain), the Belgian comic book artist who is best known for his work on the popular Spirou series, but was also the creator of Jerry Spring, one of the first major European comics set in the American West. Jije was heavily influenced by Herge's Adventures of Tintin, so there is a direct line of influence from Herge's "clear line" style to Moebius' superbly delineated creations.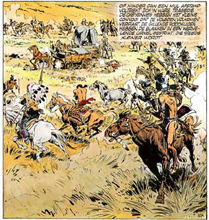 Giraud worked on a volume of
Jerry Spring
in 1961, and a year later he and writer Jean-Michel Charlier created the comic strip Fort Navajo that appeared in the comics magazine Pilote where it was a huge hit that continued until 1974. The hardboiled, action-packed Blueberry comics are considered the best western comics ever produced in Europe. His realistically-rendered 29 volumes of
Blueberry
comics remain hugely popular in France and were very important in the development of the French comics industry in the second half of the 20th Century.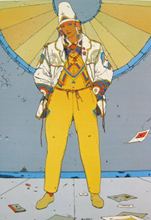 While Giraud also created a seven-volume
Jim Cutlass
series of western comics as well as a
Marshal Blueberry
spin-off, much of his fame outside France comes from his science fiction work, which he typically signed with the Moebius
nom de plume
. In 1975 he helped create the magazine
Metal Hurlant
, which as
Heavy Metal
became a major influence on American comics, mostly through its influence on the generation of comics creators who came of age in the 1980s and 1990s. Moebius'
Arzach
(1975) and
Le Garage Hermetique
(
The Airtight Garage
), which he both wrote and illustrated, began in
Metal Hurlant
. He later achieved even more renown for L'Incal, a six-book series of science fiction comics written by Alexandro Jodorowsky that deftly mix metaphysics, space opera, and satire, much of which revolves around the main character John DiFool's foibles.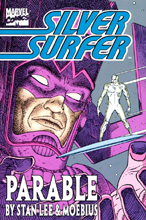 Former French Minister of Culture Jacque Lang correctly noted that "In the 70s and 80s he (Moebius) was the figurehead of comics in France," but his influence spread far beyond France. Ridley Scott consulted with Moebius who helped create the look of the classic science fiction horror film
Alien
in 1979, and Stan Lee and Moebius collaborated on a
Silver Surfer
two-issue series,
Parable
in 1988. He did the storyboards for the original
Tron
in 1982 and advised David Lynch on
Dune
in 1984. He shared an exhibit in 2004 with anime grandmaster Hayao Miyazaki, and Moebius' influence on Japanese manga and anime is considerable.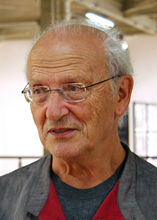 Moebius brought a post-modern aesthetic to comics—something that can be seen clearly in the six volume-series
Inside Mobius
in which the artist appears as both creator and protagonist trapped in the saga along with his younger artistic self and his earlier creations such as Blueberry, Arzach, and Major Grubert.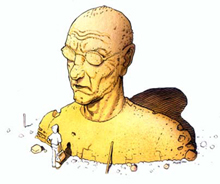 Moebius at a comics festival in Lodz in 2008.