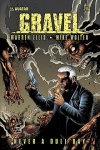 Legendary Pictures has tapped special effects whiz Tim Miller to direct an adaptation of Warren Ellis' Avatar comic book series
Gravel
. Optioned by Legendary back in 2009,
Gravel
is the saga of Mike Gravel, a soldier in the elite British S.A.S. unit who uses his skill in the occult arts as he moonlights battling various supernatural menaces (see "
Gravel Optioned
").
Miller, who is the co-founder and owner of Blur Studio, which has produced all sorts of visual footage for video games, is also attached to direct a Deadpool movie for Fox. Miller directed the stunning title sequence in David Fincher's The Girl With the Dragon Tattoo, and is also in the process of creating an "R" rated cartoon feature out of Eric Powell's The Goon.
According to
Deadline
, Miller will direct
Gravel
from a script written by Oliver Butcher and Stephen Cornwell.