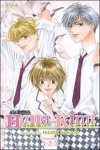 Hana-Kimi (3-in-1 Edition) Vol. 1 TP (Manga)

Publisher: VIZ Media
Release Date: March 2012
Price: $14.99
Creator: Hisaya Nakajo
Format: 584 pgs.; B&W; Trade Paperback
ISBN: 978-1-4215-4224-9
Age Rating: T+/Older Teen
ICv2 Rating: 3.5 Stars out of 5
Mizuki Ashiya is such a huge fan of high school track star and high jumper Izumi Sato that she comes up with a bold plan for getting to meet him--she moves back to Japan, disguises herself as a boy, and enrolls at Sato's boys' school. But she never expected to become Sato's roommate!
Nakajo's cheerful 23-volume romantic comedy series was released in Japan starting in the late 1990's, but it hardly shows its age as she is not a creator who revels in gimmicky outfits or modern day gadgets. Her art is clear, bright, and easy to follow, as is her sunny story. Occasionally it can be tricky keeping all of the boys straight, but readers will soon be so caught up in Ashiya's nutty life that they will muddle through just fine. There are a lot of jokes about homosexuality and perceived homosexuality, but for the most part they aren't mean-spirited and readers who love the type of cross-dressing comedy of errors which often shows up in manga will thoroughly enjoy this series. VIZ's new re-release of the first three volumes of the series in omnibus form allows libraries to buy (or replenish) a longer series for half the cost, though the occasional bit of almost nudity and some sexual references make this more appropriate for an older teen audience.
--
Snow Wildsmith: Writer and former teen librarian and ALA/YALSA committee member.