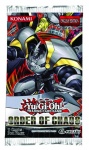 Konami Digital Entertainment has revealed to ICv2 that the 100th
Yu-Gi-Oh!
Championship Series event, which was held in Long Beach over this past weekend shattered the world record for the number of players participating in a trading card event. The final tally shows that 4,264 duelists participated in the Long Beach
YCS
event (see "
100th YGO Championship Series Event
"), nearly doubling the previous record for players in a sanctioned TCG event that was set at a
Magic: The Gathering
tournament in Madrid, Spain in 2010.
The Yu-Gi-Oh! Trading Card Game has experienced year-over-year growth in sales in North America, and participation at regional YGO tournaments is up over 20%, but the huge turnout of players for the 100the YCS event caught Konami officials by surprise. Konami VP of Card Business Yumi Hoashi told ICv2: "Our largest event prior to this was the 75th YCS event in Edison, New Jersey, and I think the attendance was just over 2,100. I attribute the huge increase at the Long Beach event to a number of factors. The brand itself is strong, very robust. We have seen year-over-year increases in sales in both the hobby and the mass market, and we've seen increases in attendance at all our premier level events, there's the fact that it was the 100th event, a landmark, and talking to our official tournament stores they report that attendance is up at their local events. All of our releases since the Starter Deck that we released last July that had characters from the latest anime series Zexel have performed very well."