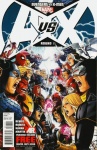 These are estimates of the sales on comic books by Diamond
U.S.
to comic specialty stores during March 2012.

For an overview and analysis of comic sales in March, see "'AvX' #1 Ends 'Justice League's' Reign."

For an analysis of the dollar trends in March, see "Streak Stopped at 7--Comics Slip in March."

For our estimates of actual sales by Diamond U.S. from comic specialty stores on graphic novels shipped during March, see "Top 300 Graphic Novels Actual--March 2012."


TOP 300 COMICS -- March 2012

Rank

Index

Title

Price

Pub

Est.Qty

1

159.48

AVENGERS VS X-MEN #1

$3.99

MAR

203,181

2

105.58

AVENGERS VS X-MEN #0

$3.99

MAR

134,509

3

103.37

JUSTICE LEAGUE #7

$3.99

DC

131,697

4

100.00

BATMAN #7

$2.99

DC

127,402

5

79.18

AVENGERS ASSEMBLE #1

$3.99

MAR

100,883

6

72.07

ACTION COMICS #7

$3.99

DC

91,822

7

70.82

GREEN LANTERN #7

$2.99

DC

90,232

8

70.56

DETECTIVE COMICS #7

$2.99

DC

89,891

9

59.10

BATMAN THE DARK KNIGHT #7

$2.99

DC

75,297

10

52.27

SUPERMAN #7

$2.99

DC

66,588

11

51.00

FLASH #7

$2.99

DC

64,975

12

48.94

AQUAMAN #7

$2.99

DC

62,345

13

48.04

BATMAN AND ROBIN #7 [*]

$2.99

DC

61,209

14

45.19

UNCANNY X-MEN #8

$3.99

MAR

57,568

15

44.85

AMAZING SPIDER-MAN #682

$3.99

MAR

57,143

16

44.72

UNCANNY X-MEN #9

$3.99

MAR

56,976

17

44.29

AGE OF APOCALYPSE #1

$2.99

MAR

56,426

18

43.70

AVENGERS X-SANCTION #4

$3.99

MAR

55,677

19

42.82

WOLVERINE AND X-MEN #7

$3.99

MAR

54,559

20

41.01

AVENGERS #24

$3.99

MAR

52,242

21

40.94

AVENGERS #24.1

$2.99

MAR

52,164

22

40.93

AMAZING SPIDER-MAN #681

$3.99

MAR

52,143

23

40.58

NEW AVENGERS #23

$3.99

MAR

51,697

24

40.35

TEEN TITANS #7

$2.99

DC

51,402

25

40.28

WONDER WOMAN #7

$2.99

DC

51,314

26

38.36

UNCANNY X-FORCE #23

$3.99

MAR

48,867

27

38.01

GREEN LANTERN NEW GUARDIANS #7

$2.99

DC

48,422

28

36.79

BATWOMAN #7

$2.99

DC

46,874

29

36.33

ULTIMATE COMICS SPIDER-MAN #8

$3.99

MAR

46,290

30

35.86

BATGIRL #7 [*]

$2.99

DC

45,685

31

35.67

NIGHTWING #7 [*]

$2.99

DC

45,440

32

35.49

KICK-ASS 2 #7 (MR)

$4.99

MAR

45,213

33

34.40

GREEN LANTERN CORPS #7 [*]

$2.99

DC

43,823

34

33.07

FANTASTIC FOUR #604

$3.99

MAR

42,126

35

32.68

CAPTAIN AMERICA #9

$3.99

MAR

41,631

36

32.09

AVENGING SPIDER-MAN #5

$3.99

MAR

40,877

37

31.81

INCREDIBLE HULK #6

$3.99

MAR

40,522

38

31.61

SWAMP THING #7

$2.99

DC

40,268

39

29.93

DAREDEVIL #10

$2.99

MAR

38,137

40

29.55

SAGA #1 (MR) [*]

$2.99

IMA

37,641

41

29.41

RED LANTERNS #7 [*]

$2.99

DC

37,465

42

29.21

WOLVERINE #302

$3.99

MAR

37,213

43

29.16

FF #16

$2.99

MAR

37,152

44

28.55

WOLVERINE #303

$3.99

MAR

36,368

45

28.26

X-MEN LEGACY #263

$2.99

MAR

35,999

46

28.22

X-MEN LEGACY #264

$2.99

MAR

35,953

47

28.13

X-MEN #26

$3.99

MAR

35,833

48

27.98

CATWOMAN #7 [*]

$2.99

DC

35,647

49

27.41

WINTER SOLDIER #3

$2.99

MAR

34,923

50

27.29

RED HOOD AND THE OUTLAWS #7 [*]

$2.99

DC

34,767

51

27.22

SUPERCROOKS #1 (MR)

$2.99

MAR

34,673

52

26.83

ASTONISHING X-MEN #48

$3.99

MAR

34,182

53

26.66

MIGHTY THOR #12

$3.99

MAR

33,967

54

26.62

WALKING DEAD #95 (MR)

$2.99

IMA

33,916

55

26.17

SUPERGIRL #7 [*]

$2.99

DC

33,337

56

26.04

ANIMAL MAN #7 [*]

$2.99

DC

33,174

57

25.60

SCARLET SPIDER #3

$2.99

MAR

32,616

58

25.49

JUSTICE LEAGUE DARK #7 [*]

$2.99

DC

32,480

59

25.29

ULTIMATE COMICS ULTIMATES #8

$3.99

MAR

32,222

60

24.94

FAIREST #1 (MR)

$2.99

DC

31,769

61

24.92

JUSTICE LEAGUE INTERNATIONAL #7 [*]

$2.99

DC

31,747

62

24.69

WOLVERINE AND X-MEN ALPHA AND OMEGA #3

$3.99

MAR

31,456

63

24.67

INVINCIBLE IRON MAN #514

$3.99

MAR

31,424

64

23.61

ULTIMATE COMICS X-MEN #9

$3.99

MAR

30,080

65

23.38

DEFENDERS #4

$3.99

MAR

29,789

66

23.35

SUPERBOY #7 [*]

$2.99

DC

29,745

67

23.25

SUICIDE SQUAD #7 [*]

$2.99

DC

29,617

68

23.16

AVENGERS CHILDRENS CRUSADE #9

$3.99

MAR

29,509

69

22.70

VENOM #14

$2.99

MAR

28,926

70

22.69

BTVS SEASON 9 FREEFALL #7

$2.99

DAR

28,908

71

22.53

CARNAGE USA #4

$3.99

MAR

28,707

72

21.97

DEADPOOL #52

$2.99

MAR

27,990

73

20.62

BIRDS OF PREY #7 [*]

$2.99

DC

26,276

74

20.49

GREEN ARROW #7 [*]

$2.99

DC

26,104

75

19.53

CAPTAIN AMERICA AND BUCKY #628

$2.99

MAR

24,881

76

19.14

STORMWATCH #7

$2.99

DC

24,384

77

18.71

X-FACTOR #233

$2.99

MAR

23,840

78

18.55

FEAR ITSELF FEARLESS #10

$2.99

MAR

23,629

79

18.50

BATMAN BEYOND UNLIMITED #2

$3.99

DC

23,570

80

18.22

FEAR ITSELF FEARLESS #11

$2.99

MAR

23,211

81

17.91

ALL STAR WESTERN #7 [*]

$3.99

DC

22,814

82

17.52

PUNISHER #9

$2.99

MAR

22,318

83

17.13

AVENGERS ACADEMY #27

$2.99

MAR

21,830

84

17.02

HUNTRESS #6

$2.99

DC

21,678

85

16.97

JOURNEY INTO MYSTERY #635

$2.99

MAR

21,617

86

16.94

MOON KNIGHT #11

$3.99

MAR

21,581

87

16.88

HULK #49

$2.99

MAR

21,510

88

16.88

NEW MUTANTS #39

$2.99

MAR

21,508

89

15.87

FATALE #3 (MR) [*]

$3.50

IMA

20,222

90

15.79

X-23 #21

$2.99

MAR

20,123

91

15.76

MAGIC THE GATHERING #3

$3.99

IDW

20,078

92

15.56

MARVELS AVENGERS PRELUDE FURYS BIG WEEK #1

$2.99

MAR

19,829

93

15.54

DEMON KNIGHTS #7 [*]

$2.99

DC

19,800

94

15.47

LEGION OF SUPER HEROES #7 [*]

$2.99

DC

19,705

95

14.97

THUNDERBOLTS #171

$2.99

MAR

19,073

96

14.89

SECRET AVENGERS #24

$3.99

MAR

18,965

97

14.88

BATWING #7 [*]

$2.99

DC

18,952

98

14.74

TEENAGE MUTANT NINJA TURTLES ONGOING #8

$3.99

IDW

18,775

99

14.39

BATMAN ODYSSEY VOL 2 #6

$3.99

DC

18,330

100

14.22

STAR WARS DAWN O/T JEDI FORCE STORM #2

$3.50

DAR

18,118

101

14.11

MARVELS AVENGERS PRELUDE FURYS BIG WEEK #2

$2.99

MAR

17,975

102

14.09

MANHATTAN PROJECTS #1

$3.50

IMA

17,955

103

13.95

DEATHSTROKE #7 [*]

$2.99

DC

17,770

104

13.89

ANGEL & FAITH #8

$2.99

DAR

17,690

105

13.73

SAVAGE HAWKMAN #7 [*]

$2.99

DC

17,490

106

13.67

GENERATION HOPE #17

$2.99

MAR

17,412

107

13.64

FABLES #115 (MR)

$2.99

DC

17,384

108

13.57

CONAN THE BARBARIAN #2

$3.50

DAR

17,288

109

13.35

FRANKENSTEIN AGENT OF SHADE #7 [*]

$2.99

DC

17,002

110

13.03

I VAMPIRE #7 [*]

$2.99

DC

16,596

111

12.93

BOYS #64 (MR)

$3.99

DE

16,479

112

12.87

LEGION LOST #7 [*]

$2.99

DC

16,393

113

12.75

DAKEN DARK WOLVERINE #22

$2.99

MAR

16,240

114

12.72

DAKEN DARK WOLVERINE #23

$2.99

MAR

16,202

115

12.60

DC UNIVERSE PRESENTS #7 [*]

$2.99

DC

16,047

116

12.56

FURY OF FIRESTORM THE NUCLEAR MEN #7 [*]

$2.99

DC

16,007

117

12.56

SHADE #6

$2.99

DC

16,005

118

12.31

SAUCER COUNTRY #1 (MR)

$2.99

DC

15,684

119

12.15

BATTLE SCARS #5

$2.99

MAR

15,481

120

12.13

RESURRECTION MAN #7 [*]

$2.99

DC

15,458

121

11.70

GRIFTER #7 [*]

$2.99

DC

14,903

122

11.51

ROCKETEER ADVENTURES 2 #1

$3.99

IDW

14,658

123

11.49

LEGION SECRET ORIGIN #6

$2.99

DC

14,639

124

11.46

AMERICAN VAMPIRE #25 (MR)

$2.99

DC

14,598

125

11.40

NEW DEADWARDIANS #1 (MR)

$2.99

DC

14,530

126

11.21

THIEF OF THIEVES #2 [*]

$2.99

IMA

14,286

127

11.15

BLUE BEETLE #7 [*]

$2.99

DC

14,202

128

11.05

STAR TREK LEGION OF SUPERHEROES #6

$3.99

IDW

14,075

129

10.98

DARK TOWER GUNSLINGER WAY STATION #4

$3.99

MAR

13,987

130

10.77

GHOST RIDER #9

$2.99

MAR

13,716

131

10.67

STAR WARS CRIMSON EMPIRE III EMPIRE LOST #5

$3.50

DAR

13,593

132

10.66

VOODOO #7 [*]

$2.99

DC

13,587

133

10.47

STEPHEN KING JOE HILL ROAD RAGE #2

$3.99

IDW

13,336

134

10.34

NIGHT FORCE #1

$2.99

DC

13,174

135

10.24

STAR WARS KNIGHTS OF THE OLD REPUBLIC WAR #3

$3.50

DAR

13,045

136

10.11

SPACEMAN #5 (MR)

$2.99

DC

12,884

137

10.09

INFESTATION 2 TEENAGE MUTANT NINJA TURTLES #1

$3.99

IDW

12,854

138

10.06

TWELVE #11

$2.99

MAR

12,819

139

10.05

DOMINIQUE LAVEAU VOODOO CHILD #1 (MR)

$2.99

DC

12,800

140

10.04

POWERS #9 (MR)

$3.95

MAR

12,792

141

9.99

HAWK AND DOVE #7 [*]

$2.99

DC

12,731

142

9.96

SPAWN #217

$2.99

IMA

12,686

143

9.75

BPRD HELL ON EARTH PICKENS COUNTY HORROR #1

$3.50

DAR

12,420

144

9.70

CAPTAIN ATOM #7 [*]

$2.99

DC

12,364

145

9.59

STAR WARS AGENT O/T EMPIRE IRON ECLIPSE #4

$3.50

DAR

12,217

146

9.47

CROSSED BADLANDS #1 (MR)

$3.99

AVA

12,068

147

9.47

TRANSFORMERS MORE THAN MEETS EYE ONGOING #3

$3.99

IDW

12,064

148

9.45

DC UNIVERSE ONLINE LEGENDS #25

$2.99

DC

12,040

149

9.40

X-CLUB #4

$2.99

MAR

11,979

150

9.37

TRANSFORMERS ROBOTS IN DISGUISE ONGOING #3

$3.99

IDW

11,939

151

9.36

INFESTATION 2 TMNT #2

$3.99

IDW

11,924

152

9.34

JOHN CARTER GODS OF MARS #1

$2.99

MAR

11,896

153

9.34

DC UNIVERSE ONLINE LEGENDS #26

$2.99

DC

11,893

154

9.27

OMAC #7 [*]

$2.99

DC

11,807

155

9.10

DEADPOOL MAX 2 #6 (MR)

$3.99

MAR

11,594

156

8.93

STAR TREK ONGOING #7

$3.99

IDW

11,382

157

8.89

ADVENTURE TIME #2

$3.99

BOO

11,329

158

8.84

VILLAINS FOR HIRE #4

$2.99

MAR

11,267

159

8.56

HELL YEAH #1

$2.99

IMA

10,908

160

8.43

CROSSED BADLANDS #2 (MR)

$3.99

AVA

10,739

161

8.39

STAN LEES MIGHTY 7 #1

$2.99

ARC

10,686

162

8.34

MISTER TERRIFIC #7 [*]

$2.99

DC

10,620

163

8.31

BPRD HELL ON EARTH LONG DEATH #2

$3.50

DAR

10,581

164

8.29

STATIC SHOCK #7 [*]

$2.99

DC

10,565

165

8.15

HAUNT #22

$2.99

IMA

10,377

166

8.11

WARLORD OF MARS DEJAH THORIS #11 (MR)

$3.99

DE

10,338

167

8.11

GFT JUNGLE BOOK #1 A CVR CROUCHED GIRL (MR)

$2.99

ZEN

10,337

168

8.09

WARLORD OF MARS #16 (MR)

$3.99

DE

10,309

169

8.00

PEANUTS #3

$3.99

BOO

10,188

170

7.96

RAY #4

$2.99

DC

10,141

171

7.84

KING CONAN PHOENIX ON THE SWORD #3

$3.50

DAR

9,993

172

7.60

MEN OF WAR #7 [*]

$3.99

DC

9,682

173

7.59

UNWRITTEN #35 (MR)

$4.99

DC

9,675

174

7.57

THOR DEVIANTS SAGA #5

$3.99

MAR

9,643

175

7.54

BLACKHAWKS #7 [*]

$2.99

DC

9,601

176

7.52

LOBSTER JOHNSON THE BURNING HAND #3

$3.50

DAR

9,576

177

7.48

UNWRITTEN #35.5 (MR)

$2.99

DC

9,529

178

7.39

GARTH ENNIS JENNIFER BLOOD #10 (MR)

$3.99

DE

9,421

179

7.35

HELLBLAZER #289 (MR)

$2.99

DC

9,363

180

7.32

GI JOE VOL 2 ONGOING #11

$3.99

IDW

9,322

181

7.23

VAMPIRELLA #15

$3.99

DE

9,212

182

7.05

MORNING GLORIES #17 (MR)

$2.99

IMA

8,978

183

6.99

TRUE BLOOD FRENCH QUARTER #6

$3.99

IDW

8,909

184

6.92

WITCHBLADE #154

$2.99

IMA

8,820

185

6.88

INFESTATION 2 GI JOE #1

$3.99

IDW

8,763

186

6.77

GI JOE A REAL AMERICAN HERO #176

$3.99

IDW

8,622

187

6.69

ADVENTURE TIME #1

$3.99

BOO

8,523

188

6.68

THUNDER AGENTS VOL 2 #5

$3.99

DC

8,505

189

6.59

RACHEL RISING #6

$3.99

ABS

8,399

190

6.56

TINY TITANS #50

$2.99

DC

8,363

191

6.54

LOCKE & KEY CLOCKWORKS #5

$3.99

IDW

8,333

192

6.47

GHOSTBUSTERS ONGOING #7

$3.99

IDW

8,248

193

6.45

IZOMBIE #23 (MR)

$2.99

DC

8,219

194

6.39

INFESTATION 2 GI JOE #2

$3.99

IDW

8,136

195

6.37

SNAKE EYES ONGOING (IDW) #11

$3.99

IDW

8,120

196

6.32

STRANGE TALENT OF LUTHER STRODE #6 (MR)

$2.99

IMA

8,048

197

6.31

GOON #38

$3.50

DAR

8,034

198

6.26

RAGEMOOR #1

$3.50

DAR

7,971

199

6.25

COBRA ONGOING #11

$3.99

IDW

7,966

200

6.23

IRREDEEMABLE #35

$3.99

BOO

7,936

201

6.04

LADY DEATH (ONGOING) #15 (MR)

$3.99

AVA

7,700

202

5.92

SWEET TOOTH #31 (MR)

$2.99

DC

7,541

203

5.88

GODZILLA LEGENDS #5

$3.99

IDW

7,497

204

5.87

MOUSE GUARD BLACK AXE #4

$3.50

ARA

7,483

205

5.75

HELLRAISER #12 (MR)

$3.99

BOO

7,329

206

5.72

GFT ALICE IN WONDERLAND #3 (MR)

$2.99

ZEN

7,283

207

5.68

YOUNG JUSTICE #14

$2.99

DC

7,241

208

5.66

DARKNESS #101 (MR)

$2.99

IMA

7,214

209

5.66

WARRIORS OF MARS #2 (MR)

$3.99

DE

7,208

210

5.56

GREEN HORNET #23

$3.99

DE

7,087

211

5.56

ARTIFACTS #15

$3.99

IMA

7,086

212

5.55

STITCHED #3 (MR)

$3.99

AVA

7,069

213

5.52

ARMY OF DARKNESS ONGOING #2

$3.99

DE

7,037

214

5.52

GRIMM FAIRY TALES #68 (MR)

$2.99

ZEN

7,029

215

5.47

DOCTOR WHO ONGOING VOL 2 #15

$3.99

IDW

6,975

216

5.44

FLASH GORDON ZEITGEIST #4

$3.99

DE

6,934

217

5.43

VOLTRON #4

$3.99

DE

6,917

218

5.40

DARK HORSE PRESENTS #10

$7.99

DAR

6,881

219

5.40

SONIC UNIVERSE #38

$2.99

ARC

6,877

220

5.31

STRAIN #4 (MR)

$3.50

DAR

6,767

221

5.30

VAMPIRELLA VS DRACULA #2

$3.99

DE

6,747

222

5.29

SIMPSONS COMICS #188

$2.99

BON

6,741

223

5.28

GRIMM FAIRY TALES #70 (MR)

$2.99

ZEN

6,724

224

5.26

GRIMM FAIRY TALES #69 (MR)

$2.99

ZEN

6,695

225

5.24

TAROT WITCH OF THE BLACK ROSE #73 (MR)

$2.95

BRO

6,672

226

5.23

NORTHLANDERS #49 (MR)

$2.99

DC

6,661

227

5.15

TOY STORY #1

$2.99

MAR

6,564

228

5.13

REBEL BLOOD #1 (MR)

$3.50

IMA

6,533

229

5.10

MY GREATEST ADVENTURE #6

$3.99

DC

6,497

230

5.08

THE LONE RANGER #3

$3.99

DE

6,476

231

5.01

HACK SLASH #14 (MR)

$3.50

IMA

6,381

232

4.94

PROPHET #23

$2.99

IMA

6,289

233

4.88

FATHOM VOL 4 #5

$3.50

ASP

6,221

234

4.85

BEYOND THE FRINGE #1

$3.99

DC

6,182

235

4.85

MEGA MAN #11

$2.99

ARC

6,182

236

4.83

FERALS #3 (MR)

$3.99

AVA

6,159

237

4.77

INFINITE VACATION #4

$3.50

IMA

6,075

238

4.75

FUTURAMA COMICS #60

$2.99

BON

6,053

239

4.75

DARK SHADOWS #4

$3.99

DE

6,050

240

4.75

FATHOM KIANI VOL 2 #0

$2.50

ASP

6,050

241

4.72

NEXT MEN AFTERMATH #41

$3.99

IDW

6,016

242

4.71

SCALPED #57 (MR)

$2.99

DC

6,007

243

4.71

KIRBY GENESIS CAPTAIN VICTORY #4

$3.99

DE

5,998

244

4.67

NINJETTES #2 (MR)

$3.99

DE

5,956

245

4.66

BLOODSTRIKE #26

$2.99

IMA

5,937

246

4.62

DOROTHY OF OZ PREQUEL #1

$3.99

IDW

5,880

247

4.57

SUPERNATURAL #6

$2.99

DC

5,827

248

4.54

HOAX HUNTERS #0

$2.99

IMA

5,779

249

4.49

ANITA BLAKE CIRCUS DAMNED SCOUNDREL #5 (MR)

$3.99

MAR

5,725

250

4.41

GFT MYTHS & LEGENDS #14 (MR)

$2.99

ZEN

5,615

251

4.30

EXILE ON THE PLANET OF THE APES #1

$3.99

BOO

5,474

252

4.26

SECRET HISTORY OF DB COOPER #1

$3.99

ONI

5,425

253

4.23

GI JOE 2 RETALIATION MOVIE PREQUEL #3

$3.99

IDW

5,391

254

4.17

SMOKE AND MIRRORS #1

$3.99

IDW

5,313

255

4.11

PLANET OF THE APES #12

$3.99

BOO

5,237

256

4.09

BART SIMPSON COMICS #69

$2.99

BON

5,214

257

4.06

MAGDALENA #11

$3.99

IMA

5,176

258

3.95

JUSTICE LEAGUE #1

$3.99

DC

5,034

259

3.93

GLORY #24