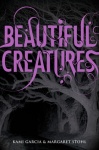 At Sakura-Con in Seattle, Yen Press announced that it was planning to publish a graphic novel adaptation of Kami Garcia and Margaret Stohl's bestselling YA novel Beautiful Creatures. A movie adaptation of Beautiful Creatures starring Viola Davis, Emma Thompson, and Jeremy Irons starts filming later this month for a February 2013 release, and The Hollywood Reporter wonders if Beautiful Creatures, which appeals to a demographic very similar to that of the Twilight novels, "will be the next major young adult novel to turn into a film sensation."
Yen Press also announced a number of new manga series, several of which will make their North American debut in omnibus editions—a growing trend in today's North American manga market. The new series include Mari Yamazaki's Thermae Romae, an award-winning manga series that celebrates the bathhouse culture of ancient Rome and has already been adapted into both an anime series and a live-action film in Japan. Yen will release Thermae Romae in hardcover volumes that will each include two tankoubon volumes.
Also slated for release in omnibus editions that include two of the original Japanese collections are Umineko When They Cry, an adaptation of a mystery visual series from the creator of the popular Higurashi When They Cry manga, and the Alice in the Country of Hearts series by Quinrose (previously released by Tokyopop), which Yen will publish in three omnibus volumes. Yen has also acquired the rights to the Alice spin-off, Alice in the Country of Hearts: My Fanatic Rabbit.
Other manga announced in Seattle include Kaoru Mori: Anything and Something a stand alone collection of stories from the author the popular Emma, Blood Lad by Yuuki Kodama, a dark comedy about a girl's attempt to recover her life after she wanders into the demon world, Triage X, a fast-paced action manga from the creator of High School of the Dead, and the Haruhi Suzumiya spin-off, The Misfortune of Kyon and Koizumi, a collection of short manga stories that features the boys of the SOS Brigade.