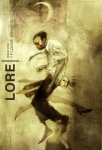 Warner Bros. has acquired the screenplay by Cory Goodman and Jeremy Lott based on Ashley Wood and T.P. Louise's Lore published by IDW Publishing. Dwayne "The Rock" Johnson is attached to star in the movie, which posits a world in which mythical creatures have been held back from the modern world by a secret society of Shepherds. Since his most recent big screen forays, Journey 2 and Fast Five have grossed over $314 million and $626 million respectively, the Rock's stock in Hollywood is higher than Apple's on NASDAQ, and as soon as he was attached to the project bidding really took off.
According to
The Hollywood Reporter
, Warner Bros. acquired the project in a seven-figure progress-to-production deal after a spirited round of bidding with other studios including Sony and Paramount. Warners also acquire the full screen rights to the original source material, Wood and Louise's comic book series, which was originally optioned in 2010 (see "
IDW's 'Lore' Gets Movie Deal
").
Warners wanted the rights to Lore because the studio sees the property as a sort of a "Men in Black with mythological creatures instead of space aliens" that has real franchise possibility.