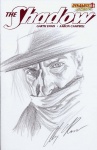 Dynamite Entertainment started a process in February to be able to release its sketch covers for
The Shadow
#1 day and date with the regular edition this week. Dynamite President Nick Barrucci explained why. "One of the complaints retailers have given us is that they are ordering extra for incentives such as hand-drawn incentives, but then they're showing up as much as two months after and some of the excitement's gone." For
The Shadow
#1, which Barrucci described as one of Dynamite's "biggest books of the year," the process of creating the sketch editions began with printing the covers at Transcontinental months ago, before retailer orders were in. Once orders were tabulated at the end of February, covers were shipped to Jae Lee and Alex Ross, who did the sketches the first week of March. Then they were sent to Transcontinental to be bound.
Then when printing the orders for the entire print run, 500 "guts" were set aside, and the sketch covers were hand fed into the binder to be bound to the interiors. Bound copies were hand trimmed.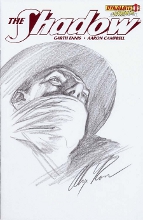 The bound sketch cover copies were then shipped to Dynamite, where they were numbered, bagged, boarded, and stickered.
Shipments were coordinated from Diamond's Timonium headquarters to avoid the potential for damage in normal handling. Then shipments were made with the furthest stores first to have copies arrive by the on sale date of the regular edition.
Less than 250 copies each of the sketch cover editions exist; the top prices we're seeing on eBay are around $500. Dynamite Entertainment is also using the sketch covers as prizes for its comic store display contest.