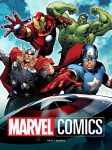 Marvel Entertainment has announced an exclusive agreement to distribute single-issue, English language digital comics worldwide with comiXology, the U.S.'s largest digital comics platform.
The multi-year agreement means that, starting today, Marvel's digital comics will be available through comiXology's Digital Storefronts for brick-and-mortar retailers.
The agreement also means that consumers will be to enjoy access to single-issue Marvel comics via the Marvel apps available for Apple iOS and Android, as well as the new Web-based Marvel Comics Shop, all of which are powered by comiXology.
Disclosure: ICv2 has a business relationship with comiXology as a representative for its Retailer Tools: ICv2 CEO Milton Griepp also serves on the board of comiXology.