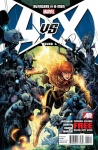 These are estimates of the sales on comic books by Diamond
U.S.
to comic specialty stores during May 2012.

For an overview and analysis of comic sales in May, see "'Avengers Vs. X-Men' Dominate in May."

For an analysis of the dollar trends in May, see "Comic Sales Soar in May."

For our estimates of actual sales by Diamond U.S. from comic specialty stores on graphic novels shipped during May, see "Top 300 Graphic Novels Actual--May 2012."


TOP 300 COMICS -- May 2012

Rank

Index

Title

Price

Pub

Est.Qty

1

132.48

AVENGERS VS X-MEN #4

$3.99

MAR

178,330

2

130.53

AVENGERS VS X-MEN #3

$3.99

MAR

175,695

3

100.00

BATMAN #9

$3.99

DC

134,605

4

97.57

JUSTICE LEAGUE #9

$3.99

DC

131,332

5

75.33

BATMAN ANNUAL #1

$4.99

DC

101,394

6

73.41

AVX VS #2

$3.99

MAR

98,819

7

71.68

BATMAN INCORPORATED #1

$2.99

DC

96,486

8

71.33

DETECTIVE COMICS #9

$3.99

DC

96,016

9

65.97

ACTION COMICS #9

$3.99

DC

88,796

10

65.08

GREEN LANTERN #9

$2.99

DC

87,601

11

64.02

EARTH 2 #1 [*]

$3.99

DC

86,168

12

61.04

BATMAN THE DARK KNIGHT #9

$2.99

DC

82,169

13

56.44

BATMAN AND ROBIN #9

$2.99

DC

75,967

14

51.46

UNCANNY X-MEN #12

$3.99

MAR

69,265

15

50.33

AVENGERS #26

$3.99

MAR

67,744

16

48.24

WOLVERINE AND X-MEN #11

$3.99

MAR

64,936

17

47.79

NEW AVENGERS #26

$3.99

MAR

64,326

18

47.29

WOLVERINE AND X-MEN #10

$3.99

MAR

63,650

19

46.66

FLASH #9

$2.99

DC

62,807

20

46.49

WORLDS FINEST #1 [*]

$2.99

DC

62,578

21

46.23

SUPERMAN #9

$2.99

DC

62,232

22

45.61

NIGHTWING #9

$2.99

DC

61,395

23

44.97

AQUAMAN #9

$2.99

DC

60,527

24

43.62

BATGIRL #9

$2.99

DC

58,710

25

43.34

AMAZING SPIDER-MAN #686

$3.99

MAR

58,337

26

43.18

AMAZING SPIDER-MAN #685

$3.99

MAR

58,121

27

43.04

ASTONISHING X-MEN #50

$3.99

MAR

57,931

28

39.92

WALKING DEAD #97 (MR)

$2.99

IMA

53,733

29

37.78

UNCANNY X-FORCE #25

$4.99

MAR

50,851

30

37.34

TEEN TITANS #9

$2.99

DC

50,261

31

37.13

WALKING DEAD #98 (MR)

$2.99

IMA

49,974

32

37.04

SECRET AVENGERS #27

$3.99

MAR

49,851

33

36.94

CATWOMAN #9

$2.99

DC

49,726

34

36.25

RED HOOD AND THE OUTLAWS #9

$2.99

DC

48,798

35

36.22

WONDER WOMAN #9

$2.99

DC

48,750

36

34.42

GREEN LANTERN CORPS #9

$2.99

DC

46,336

37

34.38

X-MEN LEGACY #267

$2.99

MAR

46,279

38

34.35

GREEN LANTERN NEW GUARDIANS #9

$2.99

DC

46,237

39

33.00

TEEN TITANS ANNUAL #1

$4.99

DC

44,415

40

32.65

BATWOMAN #9

$2.99

DC

43,942

41

32.60

AVENGERS ASSEMBLE #3

$3.99

MAR

43,886

42

32.09

X-MEN LEGACY #266

$2.99

MAR

43,199

43

31.73

X-O MANOWAR #1

$3.99

VAL

42,708

44

31.47

ULTIMATE COMICS SPIDER-MAN #10

$3.99

MAR

42,356

45

31.26

INCREDIBLE HULK #8

$3.99

MAR

42,076

46

31.11

AMAZING SPIDER-MAN ANNUAL #39

$3.99

MAR

41,879

47

30.85

BIRDS OF PREY #9

$2.99

DC

41,521

48

30.29

DIAL H #1 [*]

$2.99

DC

40,777

49

29.65

FANTASTIC FOUR #606

$2.99

MAR

39,914

50

29.57

RAVAGERS #1 [*]

$2.99

DC

39,807

51

29.33

FANTASTIC FOUR #605.1

$2.99

MAR

39,475

52

29.26

SWAMP THING #9

$2.99

DC

39,385

53

29.15

DAREDEVIL #12

$2.99

MAR

39,231

54

29.13

RED LANTERNS #9

$2.99

DC

39,215

55

29.02

DAREDEVIL #13

$2.99

MAR

39,056

56

28.98

CAPTAIN AMERICA #11

$3.99

MAR

39,012

57

28.90

SAGA #3 (MR) [*]

$2.99

IMA

38,895

58

28.83

CAPTAIN AMERICA #12

$3.99

MAR

38,800

59

28.58

INCREDIBLE HULK #7.1

$2.99

MAR

38,472

60

28.24

AVENGING SPIDER-MAN #7

$3.99

MAR

38,012

61

26.62

X-MEN #28

$3.99

MAR

35,838

62

26.55

BATWING #9

$2.99

DC

35,731

63

26.52

ANIMAL MAN #9

$2.99

DC

35,699

64

26.36

X-MEN #29

$3.99

MAR

35,483

65

26.10

SUPERGIRL #9

$2.99

DC

35,129

66

25.91

WOLVERINE #306

$3.99

MAR

34,873

67

25.88

SUPERBOY #9

$2.99

DC

34,838

68

25.74

JUSTICE LEAGUE DARK #9

$2.99

DC

34,649

69

25.67

FF #18

$2.99

MAR

34,555

70

25.62

WOLVERINE #307

$3.99

MAR

34,485

71

24.20

SUICIDE SQUAD #9

$2.99

DC

32,581

72

24.19

JUSTICE LEAGUE INTERNATIONAL #9

$2.99

DC

32,558

73

24.18

MIGHTY THOR #14

$3.99

MAR

32,550

74

23.84

AGE OF APOCALYPSE #3

$2.99

MAR

32,085

75

23.56

ANIMAL MAN ANNUAL #1

$4.99

DC

31,710

76

23.43

INVINCIBLE IRON MAN #517

$3.99

MAR

31,536

77

23.34

ALL STAR WESTERN #9

$3.99

DC

31,413

78

23.31

INVINCIBLE IRON MAN #516

$3.99

MAR

31,374

79

23.29

ULTIMATE COMICS ULTIMATES #11

$3.99

MAR

31,344

80

23.22

ULTIMATE COMICS ULTIMATES #10

$3.99

MAR

31,257

81

22.98

SCARLET SPIDER #5

$2.99

MAR

30,932

82

22.77

WINTER SOLDIER #5

$2.99

MAR

30,646

83

22.56

GI COMBAT #1 [*]

$3.99

DC

30,366

84

22.40

VENOM #17

$2.99

MAR

30,157

85

22.02

DEADPOOL #54

$2.99

MAR

29,644

86

21.89

AVENGERS ACADEMY #29

$2.99

MAR

29,460

87

21.70

AVENGERS ACADEMY #30

$2.99

MAR

29,213

88

21.56

DEADPOOL #55

$2.99

MAR

29,022

89

21.42

ULTIMATE COMICS X-MEN #12

$3.99

MAR

28,839

90

21.33

ULTIMATE COMICS X-MEN #11

$3.99

MAR

28,711

91

21.25

WOLVERINE AND X-MEN ALPHA AND #5

$3.99

MAR

28,609

92

21.03

VENOM #18

$2.99

MAR

28,309

93

21.00

SECRET SERVICE #2 (MR)

$2.99

MAR

28,265

94

20.97

BTVS SEASON 9 FREEFALL #9

$2.99

DAR

28,229

95

20.32

AMAZING SPIDER-MAN OF EARTH #1

$3.99

MAR

27,347

96

20.06

SMALLVILLE SEASON 11 #1

$3.99

DC

27,004

97

20.04

SUPERCROOKS #3 (MR)

$2.99

MAR

26,969

98

20.03

GREEN ARROW #9

$2.99

DC

26,966

99

18.96

DEFENDERS #6

$3.99

MAR

25,518

100

18.73

BATMAN ARKHAM UNHINGED #2

$2.99

DC

25,215

101

18.34

EXILED #1

$2.99

MAR

24,686

102

18.25

NEW MUTANTS #42

$2.99

MAR

24,572

103

18.11

JOURNEY INTO MYSTERY #637

$2.99

MAR

24,378

104

18.09

BATMAN BEYOND UNLIMITED #4

$3.99

DC

24,356

105

17.95

NEW MUTANTS #43

$2.99

MAR

24,160

106

17.87

X-FACTOR #235

$2.99

MAR

24,051

107

17.85

X-FACTOR #236

$2.99

MAR

24,031

108

17.68

LEGION LOST #9

$2.99

DC

23,794

109

17.66

CAPTAIN AMERICA AND HAWKEYE #630

$2.99

MAR

23,774

110

17.66

JOURNEY INTO MYSTERY #638

$2.99

MAR

23,766

111

17.33

AVENGERS VS X-MEN #2

$3.99

MAR

23,323

112

17.31

PUNISHER #11

$2.99

MAR

23,303

113

16.85

CAPTAIN AMERICA AND HAWKEYE #631

$2.99

MAR

22,684

114

16.70

FATALE #5 (MR)

$3.50

IMA

22,484

115

16.68

STORMWATCH #9

$2.99

DC

22,448

116

16.59

FAIREST #3 (MR)

$2.99

DC

22,329

117

16.41

HULK #51

$2.99

MAR

22,085

118

16.36

STAR WARS DARTH VADER GHOST PRISON #1

$3.50

DAR

22,026

119

16.33

SHADOW #2

$3.99

DE

21,982

120

16.26

HULK #52

$2.99

MAR

21,882

121

15.56

STAR TREK TNG DOCTOR WHO ASSIMILATION #1

$3.99

IDW

20,940

122

15.51

DEATHSTROKE #9

$2.99

DC

20,878

123

15.49

LEGION OF SUPER HEROES #9

$2.99

DC

20,854

124

15.32

FURY MAX #1 (MR)

$3.99

MAR

20,620

125

15.07

ADVENTURE TIME #4

$3.99

BOO

20,289

126

15.00

DEMON KNIGHTS #9

$2.99

DC

20,196

127

14.89

MIND THE GAP #1 [*]

$2.99

IMA

20,038

128

14.68

STAR WARS DAWN O/T JEDI FORCE STORM #4

$3.50

DAR

19,756

129

14.30

TEENAGE MUTANT NINJA TURTLES #10

$3.99

IDW

19,254

130

14.13

FURY MAX #2 (MR)

$3.99

MAR

19,021

131

13.96

THUNDERBOLTS #174

$2.99

MAR

18,792

132

13.95

MAGIC THE GATHERING #4

$3.99

IDW

18,779

133

13.95

HIGHER EARTH #1

$1.00

BOO

18,775

134

13.78

STAR WARS BLOOD TIES BOBA FETT IS DEAD #2

$3.50

DAR

18,544

135

13.39

RESURRECTION MAN #9

$2.99

DC

18,018

136

13.37

MANHATTAN PROJECTS #3

$3.50

IMA

18,001

137

13.20

THIEF OF THIEVES #4

$2.99

IMA

17,774

138

13.09

SAVAGE HAWKMAN #9

$2.99

DC

17,626

139

12.99

FABLES #117 (MR)

$2.99

DC

17,484

140

12.95

HULK SMASH AVENGERS #1

$2.99

MAR

17,434

141

12.83

FRANKENSTEIN AGENT OF SHADE #9

$2.99

DC

17,266

142

12.81

FURY OF FIRESTORM THE NUCLEAR MEN #9

$2.99

DC

17,240

143

12.78

ANGEL & FAITH #10

$2.99

DAR

17,206

144

12.76

I VAMPIRE #9

$2.99

DC

17,175

145

12.34

BLUE BEETLE #9

$2.99

DC

16,607

146

12.27

BOYS #66 (MR)

$3.99

DE

16,514

147

12.23

AVENGERS VS X-MEN #1

$3.99

MAR

16,462

148

12.17

MARVEL ZOMBIES DESTROY #1

$3.99

MAR

16,375

149

12.09

AMERICAS GOT POWERS #2

$2.99

IMA

16,273

150

11.72

DC UNIVERSE PRESENTS #9

$2.99

DC

15,776

151

11.70

HULK SMASH AVENGERS #3

$2.99

MAR

15,750

152

11.66

CONAN THE BARBARIAN #4

$3.50

DAR

15,689

153

11.40

HULK SMASH AVENGERS #2

$2.99

MAR

15,342

154

11.31

GRIFTER #9

$2.99

DC

15,228

155

11.20

MARVEL ZOMBIES DESTROY #2

$3.99

MAR

15,072

156

11.18

SHADE #8

$2.99

DC

15,051

157

10.91

FRANKENSTEIN ALIVE ALIVE #1

$3.99

IDW

14,692

158

10.87

HULK SMASH AVENGERS #4

$2.99

MAR

14,625

159

10.81

INVINCIBLE #91

$2.99

IMA

14,556

160

10.73

MARVELS AVENGERS AVENGERS INITIATIVE

$2.99

MAR

14,440

161

10.71

AMERICAN VAMPIRE #27 (MR)

$2.99

DC

14,420

162

10.69

HULK SMASH AVENGERS #5

$2.99

MAR

14,387

163

10.24

EPIC KILL #1

$2.99

IMA

13,784

164

10.22

VOODOO #9

$2.99

DC

13,762

165

10.16

AVENGERS BLACK WIDOW STRIKES #1

$2.99

MAR

13,682

166

9.88

SUPERMAN FAMILY ADVENTURES #1

$2.99

DC

13,303

167

9.85

STAR WARS KNIGHTS OF THE OLD REPUBLIC WAR #5

$3.50

DAR

13,260

168

9.51

SPAWN #219

$2.99

IMA

12,804

169

9.32

THE SPIDER #1

$3.99

DE

12,547

170

9.27

POWERS #10 (MR)

$3.95

MAR

12,484

171

9.22

AVENGERS BLACK WIDOW STRIKES #2

$2.99

MAR

12,404

172

9.11

CAPTAIN ATOM #9

$2.99

DC

12,264

173

9.11

BPRD HELL ON EARTH TRANSFORMATION ODONNELL #1

$3.50

DAR

12,261

174

9.05

CHEW #26 (MR)

$2.99

IMA

12,187

175

8.91

GODZILLA #1

$3.99

IDW

11,994

176

8.62

TRANSFORMERS MORE THAN MEETS EYE #5

$3.99

IDW

11,602

177

8.61

STAR TREK #8

$3.99

IDW

11,590

178

8.55

TRANSFORMERS ROBOTS IN DISGUISE #5

$3.99

IDW

11,506

179

8.47

BPRD HELL ON EARTH DEVILS ENGINE #1

$3.50

DAR

11,395

180

8.31

MYSTERY IN SPACE #1 (MR)

$7.99

DC

11,184

181

8.30

STAR TREK #9

$3.99

IDW

11,171

182

8.26

HARDCORE #1

$2.99

IMA

11,112

183

8.13

ROCKETEER ADVENTURES 2 #3

$3.99

IDW

10,942

184

8.02

GAME OF THRONES #8 (MR)

$3.99

DE

10,797

185

7.97

TEENAGE MUTANT NINJA TURTLES COLOR CLASSICS #1

$3.99

IDW

10,732

186

7.92

SAUCER COUNTRY #3 (MR)

$2.99

DC

10,656

187

7.89

TRUE BLOOD #1

$3.99

IDW

10,615

188

7.47

GARFIELD #1

$3.99

BOO

10,057

189

7.28

TAKIO #1

$3.95

MAR

9,793

190

7.24

CROSSED BADLANDS #5 (MR)

$3.99

AVA

9,746

191

7.17

NIGHTWING #8

$2.99

DC

9,648

192

7.15

WARLORD OF MARS DEJAH THORIS #12 (MR)

$3.99

DE

9,620

193

7.14

GREEN LANTERN THE ANIMATED SERIES #2

$2.99

DC

9,615

194

7.13

NEW DEADWARDIANS #3 (MR)

$2.99

DC

9,594

195

7.09

UNWRITTEN #37 (MR)

$2.99

DC

9,549

196

7.06

LOBSTER JOHNSON THE BURNING HAND #5

$3.50

DAR

9,506

197

7.01

TEENAGE MUTANT NINJA TURTLES #9

$3.99

IDW

9,438

198

7.00

HELLBLAZER #291 (MR)

$2.99

DC

9,426

199

6.98

GI JOE VOL 2 #13

$3.99

IDW

9,391

200

6.96

AVENGERS VS X-MEN #0

$3.99

MAR

9,372

201

6.95

TRIO #1

$3.99

IDW

9,353

202

6.94

STEPHEN KING JOE HILL ROAD RAGE #4

$3.99

IDW

9,335

203

6.90

CROSSED BADLANDS #6 (MR)

$3.99

AVA

9,285

204

6.79

GHOSTBUSTERS #9

$3.99

IDW

9,133

205

6.74

GUILD FAWKES #1

$3.50

DAR

9,067

206

6.69

DUNGEONS & DRAGONS FORGOTTEN REALMS #1

$3.99

IDW

9,005

207

6.65

MORNING GLORIES #18 (MR)

$2.99

IMA

8,953

208

6.64

FANBOYS VS ZOMBIES #2

$3.99

BOO

8,942

209

6.59

VAMPIRELLA #17

$3.99

DE

8,873

210

6.59

SONIC THE HEDGEHOG #236

$2.99

ARC

8,864

211

6.56

WITCHBLADE #156

$2.99

IMA

8,835

212

6.56

LORD OF THE JUNGLE #4 (MR)

$3.99

DE

8,829

213

6.54

GI JOE A REAL AMERICAN HERO #178

$3.99

IDW

8,804

214

6.48

DANCER #1

$3.50

IMA

8,727

215

6.43

DEJAH THORIS & WHITE APES OF MARS #2 (MR)

$3.99

DE

8,649

216

6.38

SONIC THE HEDGEHOG #237

$2.99

ARC

8,586

217

6.36

SNAKE EYES & STORM SHADOW #13

$3.99

IDW

8,567

218

6.34

KEVIN SMITH BIONIC MAN #9

$3.99

DE

8,540

219

6.31

GFT ALICE IN WONDERLAND #6 (MR)

$5.99

ZEN

8,492

220

6.30

AVX VS #1

$3.99

MAR

8,477

221

6.28

NIGHT FORCE #3

$2.99

DC

8,458

222

6.27

LOCKE & KEY CLOCKWORKS #6

$3.99

IDW

8,436

223

6.03

COBRA #13

$3.99

IDW

8,115

224

6.02

RACHEL RISING #8

$3.99

ABS

8,103

225

5.94

GARTH ENNIS JENNIFER BLOOD #13 (MR)

$3.99

DE

7,997

226

5.92

IZOMBIE #25 (MR)

$2.99

DC

7,974

227

5.84

BART SIMPSONS PAL MILHOUSE #1

$2.99

BON

7,862

228

5.83

CALL OF WONDERLAND #1 (MR)

$3.99

ZEN

7,852

229

5.79

MASS EFFECT HOMEWORLDS #2

$3.50

DAR

7,789

230

5.78

GRIM LEAPER #1 (MR)

$3.50

IMA

7,779

231

5.67

SWEET TOOTH #33 (MR)

$2.99

DC

7,631

232

5.65

YOUNGBLOOD #71

$2.99

IMA

7,611

233

5.65

IRREDEEMABLE #37

$3.99

BOO

7,609

234

5.65

HERO COMICS 2012

$3.99

IDW

7,601

235

5.63

MARVEL UNIVERSE ULTIMATE SPIDER-MAN #2

$2.99

MAR

7,581

236

5.60

MIND MGMT #1

$3.99

DAR

7,537

237

5.57

HELL YEAH #3

$2.99

IMA

7,504

238

5.55

DOROTHY AND WIZARD IN OZ #6

$3.99

MAR

7,475

239

5.55

YOUNG JUSTICE #16

$2.99

DC

7,466

240

5.54

LADY DEATH #17 (MR)

$3.99

AVA

7,453

241

5.49

DOROTHY AND WIZARD IN OZ #7

$3.99

MAR

7,391

242

5.41

DARK HORSE PRESENTS #12

$7.99

DAR

7,281

243

5.36

DANGER CLUB #2

$2.99

IMA

7,210

244

5.26

SONIC UNIVERSE #40

$2.99

ARC

7,077

245

5.24

BIONIC WOMAN #2

$3.99

DE

7,053

246

5.18

TAROT WITCH OF THE BLACK ROSE #74 (MR)

$2.95

BRO

6,970

247

5.12

RED SONJA WITCHBLADE #3

$3.99

DE

6,896

248

5.12

ARTIFACTS #17

$3.99

IMA

6,887

249

5.11

DOMINIQUE LAVEAU VOODOO CHILD #3 (MR)

$2.99

DC

6,873

250

5.04

SIMPSONS COMICS #190

$2.99

BON

6,779

251

5.02

GRIMM FAIRY TALES #73 (MR)

$2.99

ZEN

6,757

252

5.00

MARVEL UNIVERSE AVENGERS EARTHS HEROES #2

$2.99

MAR

6,733

253

4.98

HELLRAISER #14 (MR)

$3.99

BOO

6,707

254

4.94

RED SONJA #66

$3.99

DE

6,650

255

4.93

GREEN HORNET #25

$3.99

DE

6,641

256

4.75

INCORRUPTIBLE #29

$3.99

BOO

6,400

257

4.75

PROPHET #25

$2.99

IMA

6,390

258

4.72

SUPREME #64

$2.99

IMA

6,353