Cryptozoic Entertainment has released the details of its
DC Comics Deck-Building Game
, which is slated for release late this summer along with a new set of DC trading cards celebrating the "New 52." ICv2 first reported the existence of a
Cryptozoic DC Deck-Building Game
as part of its Toy Fair coverage back in February, but no details concerning the game (save for its existence) were available at that time (see "
DC Deck-Building Game
").
The initial release for Cryptozoic's DC Deck-Building Game consists of 214 game cards and 7 oversize Hero Cards. Designed for 2-5 players, ages 15 and up, the game takes just 30-45 minutes to play. Players can play as Batman, Superman, Wonder Woman, Aquaman, Flash, Green Lantern, or Cyborg, and the powers of each hero shape (or should shape) how that player approaches the game.
Each player starts with his or her own deck of 10 cards and draws a hand of five cards every turn. The goal of the game is to turn your own deck into a well-oiled machine that can easily dispatch villains. There are five different types of cards that can be acquired including villains, heroes, equipment, super powers, and locations.
Players attempt to obtain enough power to defeat the current super-villain, but when a super-villain is defeated, a new one appears and attacks all the players in the game. Players can defend themselves with "defense" cards like The Batsuit, superspeed, Bulletproof or others. The player who ends up with the most Victory Points from his or her deck is the winner.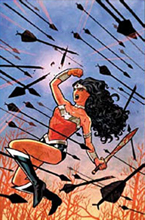 The trading card release,
DC Comics: The New 52 Trading Cards
, includes a 61-card base set all of which features original art commissioned by DC Comics, plus a "Lanterns" chase set featuring iconic Lanterns, and a "Works in Progress" lenticular chase set that a variety of cards ranging from lenticular sketch cards to fully colored lenticular cards. Special sketch cards featuring designs from some of DC's top artists will be inserted 1 sketch card per 24 packs of cards. This is the first new set of DC Comics trading cards in more than three years.