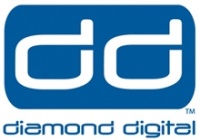 Diamond Comic Distributors and iVerse Media will launch Diamond Digital, a new service allowing comic retailers to sell digital comics, on July 23rd. Consumers will be able to buy digital comics either via digital redemption codes purchased in stores or directly from retailer Websites. Comics will be downloadable and readable on mobile devices using a Digital Comics Readers app or on comic retailers' Websites.
Three options will be offered to retailers for online sales: Easy Link, which allows retailers to link from their Website, newsletter, or Facebook page to a custom micro-site hosted on digitalcomicreader.com; Plug and Play, which allows retailers to add Diamond Digital to existing Websites; or the API option, a customizable option for experienced e-commerce retailers. For existing Websites, Diamond Digital can be integrated into the retailer's search, shopping cart, and payment systems.
In-store, retailers will be able to offer codes for day-and-date editions of new comics, usually at the same MSRP as the print editions, and/or digital "Plus" edition codes typically at $.99 with the purchase of a physical copy.
Publishers participating at launch include IDW Publishing, Image Comics, Archie Comics, APE Entertainment, Arcana Entertainment, Bluewater, BOOM! Studios, Broadsword, Hermes Press, Sea Lion, Top Shelf, Viper Comics, and Within Temptation.
Disclosure: ICv2 has a business relationship with comiXology as a representative for its Retailer Tools: ICv2 CEO Milton Griepp also serves on the board of comiXology.