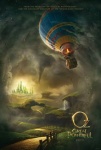 Comic-Con News
: Here's the trailer for Sam (the original
Spider-Man
trilogy) Raimi's
Oz: The Great and Powerful
. Disney has released this trailer for the big budget fantasy film just minutes after it premiered at Comic-Con. Raimi's film is intended as a prequel to the 1939
Wizard of Oz
film. It stars James Franco as the eponymous anti-hero with Mila Kunis, Michelle WIlliams, and Rachel Weisz as the three witches.
Note how Raimi's film mirrors the format of the 1939
Wizard of Oz
film with a black-and-white prologue set in Kansas and the settings and characters in the colorful realm of Oz also recalling the 1930s fantasy. Raimi's
Oz: The Great and Powerful
is slated to debut on March 8th, 2013.