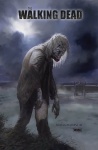 Comic-Con News:
Here's four-minutes of white knuckle zombie fighting mayhem that will make the wait until Season 3 of
The Walking Dead
debuts in October. This trailer does a superlative job of setting up the new season as the intrepid band of survivors attempts to take over a prison and secure it as a fortress against the shambling zombie hordes. It also manages to do a great job of introducing us to Michonne, the Governor, and a certain character from Seaon One who turns up hyena-like in the trailers last shot.
The third season of AMC's adaptation of Robert Kirkman's
The Walking Dead
debuts on October 14th. As part of its Comic-Con presence AMC also commissioned a commemorative
Season 3
poster by Greg Capullo (see "
Greg Capullo's Season 3 'Walking Dead' Poster
").