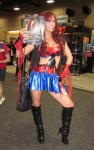 Here's some additional photos from Saturday, when Comic-Con peaks. See also
Part 12
and
Part 13
for more Saturday photos.
Promoting
Snake Club: Revenge of the Snake Woman
("She will slither into your soul"), currently in post-production.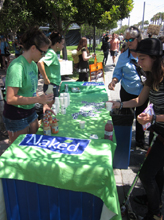 Beverage sampling across the street from the Convention Center.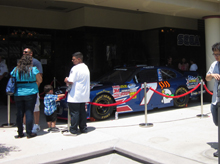 Danica Patrick is a character in Sega's new
Sonic
videogame,
Sonic & All-Stars Racing Transformed
, and her car was at Comic-Con to mark the occasion.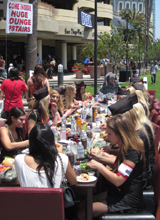 Ok, this publicity stunt raised some eyebrows. To promote indy film
Iron Sky
, the story of Nazis who escape to the far side of the moon and invade earth in modern times, the producers assembled a group of models in the costumes of the invaders (which, thankfully, did not include swastikas) to march around the Convention Center. Here, they have lunch with a guy in a dog costume.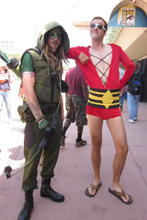 Plastic Man takes a break with Green Arrow as a resting place.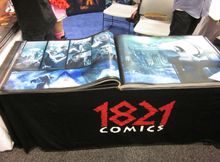 1821 Comics displayed the recently Guinness-certified largest graphic novel other at its booth.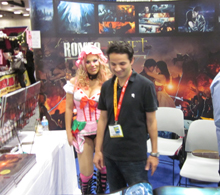 1821 Comics was also promoting its Stan Lee-inspired
Romeo and Juliet
, with an inexplicably attired booth model.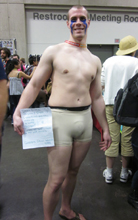 We asked this guy if he was a character or just walking around in his underwear, and he confirmed it was the latter. The note he was carrying said, "Dear Diary, today I died. I was killed by this thing (picture of insect) in some basement. I leave all that I own to my cat Guppy." Takes all kinds at a Comic-Con.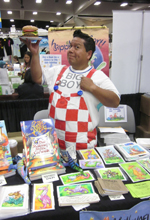 Big Boy was there, at the K. Michael Crawford booth.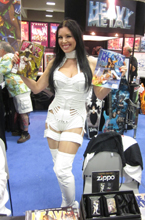 A lovely model at the Heavy Metal booth shows us the issues in which she appears.
Click here
for Part 12.