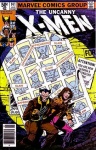 Bryan Singer, one of the producers of
X-Men: First Class
and its eagerly awaited sequel, has revealed that the second film in Fox's reboot of the
X-Men
franchise will be based on Chris Claremont and John Byrne's classic "Days of Future Past" saga in an interview on
IGN
. In the classic
X-Men
scenario, which appeared in 1981 in
Uncanny X-Men
#141-142, the failure by the supergroup to prevent the assassination of a U.S. Senator leads to an alternate future in which the Sentinels control the U.S. and mutants are hunted down and imprisoned. It would appear to be a good fit for both the X-Men screen franchise and director Matthew Vaughn.
Singer told IGN that the X-Men: First Class sequel is "going to be very ambitious. It's called Days of Future Past. It deals with aspects of that comic, but also with some very new things." Singer was careful not to reveal any of the potential changes that the filmmakers may be making to the Claremont/Byrne storyline. Singer also hinted that Fox may be planning to link its X-Men films together and tease upcoming films much in the same way that Marvel Studios has done, "I think the X-Men Universe is every bit on its own, as big as the Marvel Universe, and I think it's time to reach out and explore it, and perhaps bring some connectivity to it, as Marvel has done so well."
Singer did not indicate when actual filming would begin on
X-Men First Class: Days of Future Past
, though he did indicate that the film is being written right now. With an announced release date of July 18th, 2014 (see "
Fox Sets Date for 'X-Men: First Class' Sequel
"), production on the effects-heavy film should get underway relatively early in 2013, if not before.