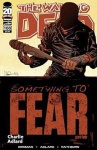 The comics market continued its bullish run in July with dollar sales of periodical comics up 22.09% over July 2011 and graphic novels sales growing by 16.89%. These numbers represent an improvement over the year-to-date dollar sales gains for comics (20.72%) and for graphic novels (13.98%).
Of course there was a special circumstance in July, the release of issue #100 of Robert Kirkman's
The Walking Dead
, which, thanks in part to the AMC basic cable adaptation, has become one of the top comic book properties. With nine different covers, this anniversary edition of the zombie comic saga garnered an amazing total of initial orders (see "
'The Walking Dead' Hits 383,612 in Initial Orders
"), the most for any comic since Top Cow's
The Darkness
#11 in 1997.
The anniversary issue of The Walking Dead bumped Marvel's Avengers vs. X-Men titles from their accustomed perches atop the list. Still the AVX series appears to remain strong with the two lead AVX titles at #2 and #3, while the smackdown series AVX Vs gave Marvel its only other Top Ten title at #7. DC took six of the Top Ten spots with Batman again edging out Justice League as the top DC book. In contrast to last month when four Before Watchmen titles made the top ten, in July only Ozymandias #1, which came in at #6, made the Top 10.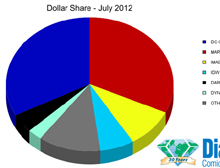 DC has been steadily closing the marketshare gap with Marvel (see "
First Half Comic Sales Up 18%
") and in July it overtook Marvel for the top spot in Dollar Share with 32.71% to Marvel's 31.96%. Both Marvel and DC's shares were down a bit in July as Image's share, buoyed by
TWD
#100, rose to 9.42%. IDW Publishing remained at #4 with a 6.61% share, followed by Dark Horse Comics with 4.51%, and Dynamite Entertainment with 2.77%.
DC's marketshare was aided by a strong showing on the graphic novel side where the publisher placed five books in the Top Ten. DC's
Batman: Earth One
hardcover, which also topped the bookstore channel graphic novel sales in July (see "
'Batman' Tops Bookstore Charts
"), was the number one graphic novel in the direct market as well, followed by another DC/Vertigo title
Fables: Vol. 17
. IDW's Eisner-winning
Parker
series featuring Darwyn Cooke's excellent adaptations of the novels of Richard Stark (Donald E. Westlake) snagged the third spot with
Richard Stark's Parker: The Score
, and Dark Horse followed with
Buffy the Vampire Slayer Season 9: Freefall
.
Once again WizKids'
HeroClix
releases dominated game sales through Diamond taking the top spot with the
Marvel HeroClix Chaos War Booster Block
and five out of the top ten rankings overall (down from an amazing 6 of 10 in June).
Risk Legacy
was second, followed by the two
Magic: The Gathering 2013 Core Set
releases from Wizards of the Coast.