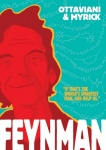 We interviewed Mark Siegel, Editorial Director of First Second, about why the company is topping projections with its releases over the past year. And in
Part 2
of this two part interview, we talk about the best of First Second's upcoming releases and its Webcomics model.
It's been a little over a year since we talked--what's done well for First Second in the past 12 months?
This year's definitely been a graduating year for First Second. It feels like we've moved into the next league now. We've hit some milestones we've been aiming for for a good four years now. I want to point out
Feynman
on the adult end of the list; it was a #1
New York Times
bestseller on the graphic novel list. It stayed on for 11 weeks, I think. That was definitely a proud moment for us and it continues to be a good selling book for us.
What was the printing on that?
I think 15,000. [Note: Siegel has subsequently supplemented his answer to let us know that
Feynman
has been through several printings, which now total 35,000.]
Anya's Ghost
is another one that did well, and it got four starred reviews. We've been able to champion the books with a bit more clout, a bit more muscle than we've had. We've been building up to this year for a long time.
On the young end of the list
Nursery Rhyme Comics
has done really, really well. That has an incredible A-list of cartoonists from all over the comics industry and the
New Yorker
cartoonists, many of them. People like Jaime Hernandez and Mike Mignola—people you wouldn't expect to see in a nursery rhyme book. That has been a really big number for us.
What was the printing on that?
I think we started at 10,000 and we must have reprinted three or four times by now. We're over 20,000.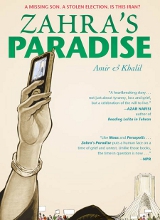 We've had a string of things.
Zahra's Paradise
was a big moment for us. It's one of our online serials we experimented with. It's a story about Iranian dissidents and the events in Iran recently. We had sold 12 or so languages before the third chapter even appeared online, and then each of those countries was joining on the online serial as well. Now if you look at the Website, it's got a dozen languages at least, and we've sold Israel, Turkey, Korea and Brazil and then Western Europe and all over, so that was a history-making moment for comics. It was getting some very, very big coverage in all those countries. It did well. The media is a harder push in America; everywhere else it was big, front page news in some cases--like in Brazil and France. We passed 25,000 and it's definitely holding its own.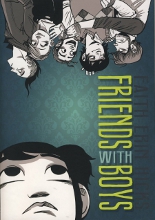 Faith Erin Hicks was another one of our serials--
Friends with Boys
. It was serializing online and then it came out and you could see the impact of the Webcomics at her signings when there'd be lines snaking around three booths at difference places like BEA and ALA.
So that's been some of the exciting things and it feels like overall for First Second what's really interesting is we're well over the sales budget we had targeted--like 125% over this year. And we're not seeing it from just one bestseller, we're seeing an overall incremental increase on almost all the titles.
It's obviously been a tough time for the book trade in terms of the number of stores, so how are you getting those increases with fewer places to sell books?
Yeah, well I'm still personally invested with working on the independent booksellers. I'm traveling a lot this year and I'm speaking mostly to librarians and educators but also booksellers and sometimes comic shop sellers. Our sales are pretty spread out between the book trade, the library world, institutional, and the direct market--almost evenly. We haven't felt the impact like some places have. Like for picture books, it's much more dramatic; there's been a shift in the landscape.
We're fortunately part of Macmillan, which is also having a banner year in children's publishing. We're doing adult as well so we're a bit of an anomaly. But it's hard to say since we're not really following the trend overall. Even when I see other imprints at Macmillan we seem to have a different pattern. The independent booksellers I would say are not a big percentage of the book trade part, but they're stepping up. Part of it is we're courting them with ways to build their collection into a hub in their community and this kind of thing. It's a bit like how we speak with librarians, but librarians are further ahead of the curve. So it's mostly online, Amazon, BNN.com, where we're seeing a lot of our sales.
I think last year you said you were looking at 16 releases. What are you looking at for this year and then looking ahead?
We have three seasons now because we have the winter season which is growing. In the coming years it's going to be even bigger. I think maybe this year as 18, and about 20 next year, but I'd like to get to 24 titles a year as a cruising altitude for us. That would probably involve more staff because we're all working ourselves to the bone right now.
Click here for
Part 2
.