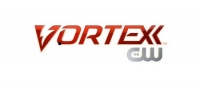 Saban Brands has announced the programming for its rebranded Saturday morning block on The CW, which includes two hours of anime, an hour of Big Two comic-based shows, and a new WWE half-hour show, among others. The new block, dubbed Vortexx, was acquired by Saban along with some programming rights in the split of 4Kids assets out of its reorganization (see "
Court Approves Splitting 4Kids
"). It will launch August 25th.
Vortexx will feature an hour of
Yu-Gi-Oh! Zexal
, as well as a half hour of classic
Yu-Gi-Oh!. Zexal
began airing on the block last October (see "
'YGO: Zexal' in October
"). A half hour of
Dragonball Z Kai
will also be aired each week, following up on 4Kids launch of the property in the U.S. in 2010 (see "
4Kids Adds 'Dragon Ball Z Kai'
").
A new WWE show targeting kids, WWE Saturday Morning Slam, will premiere in the block with wrestler profiles, behind-the-scenes footage, and an exclusive WWE match each week.
Two previously released Big Two comic-based half hours will be aired: Iron Man: Armored Adventures, which was originally shown on Nicktoons over the last few years; and Justice League Unlimited, which aired on Cartoon Network from 2004-2006.
Three more shows will be included in the five hour block: Cubix, Rescue Heroes, and Power Rangers: Lost Galaxy.