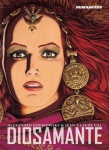 Humanoids is releasing a pair of graphic albums written by Alexandro Jodorowsky (The Incal, the Metabarons) in November.
Available in the English language for the first time, Diosamante ($24.95, 96 pages) tells the tale of the redemption of an ancient queen who's as beautiful as she is cruel. The hardcover volume, featuring line art and coloring by Jean-Claude Gal (Arn), includes a bonus section with some of Gal's unpublished pages and sketches, as well as text pieces by Jodorowsky.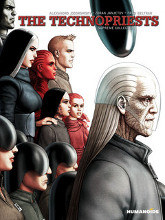 Presented as a deluxe slipcase edition,
The Technopriests Supreme Collection
($114.95, 408 pgs.) collects the three previously released trade paperbacks chronicling the galactic adventures of Albino and his path to become the Supreme Technopriest. Drawn by Zoran Janjetov (
Before the Incal
) with coloring by Fred Beltran (
Megalex
), this omnibus will be presented in the original size (9.25" x 12.3") in a limited, numbered print run of only 999 copies.
--By Brett Weiss