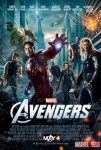 The major comic book-based movies released during the summer of 2012 have all more than lived up to expectations, but this year Hollywood movies only sold roughly 533.5 million movie tickets during the summer season, 100 million fewer tickets than moviegoer's purchased a decade ago in 2002, and the lowest total in 19 years. In spite of higher ticket prices, during this past summer season, which runs from the first Friday in May through the end of Labor Day, actual domestic box office revenue fell 3% from $4.4 billion for the summer of 2011 to $4.27 billion for the just finished season. The summer started off with a bang with Joss Whedon's The Avengers, but July and August box office revenues were off substantially in the wake of the shootings in Aurora, Colorado.
There is no doubt that the hits in 2012 were bigger than they were in 2011. The number one film of 2011 was Harry Potter and the Deathly Hallows Part 2, which earned $381.1 million domestically and $1.3 billion worldwide, well behind Joss Whedon's The Avengers, which earned $620 million domestically and over $1.5 billion worldwide. In spite of the shootings during the midnight debut of Christopher Nolan's The Dark Knight Rises in Aurora, Colorado, Nolan's final Batman movie has earned $433 million domestically, and has already surpassed Nolan's previous Batfilm, The Dark Knight with its global total of just over $1 billion dollars. Marc Webb's reboot of the Spider-Man franchise for Sony, The Amazing Spider-Man has done more than enough to rejeuvenate the franchise going as it has earned $260 million domestically and nearly three-quarters of a billion dollars worldwide.
Seth MacFarlane's "R" rated comedy Ted also performed well this summer as it earned $220 million, but it appears that, compared with 2011, these big hits sucked most of the oxygen out of the room. The Avengers was so dominant in May that it alone accounted for 52% of all the ticket revenue for the month. Last summer there were 18 films that earned over $100 million, while this summer there have only been 11 that managed to crack the century mark.
This year started out very well for Tinseltown with the studios forging a double-digit percentage point lead in revenue versus 2011 during the January-through-April pre-summer period. In spite of the Avengers total box office revenue was down 1% in May. After rebounding in June when it was up 4% over 2011, the box office was down 6% in July in the wake of the Colorado shootings and the effect was actually felt more in August, which saw a precipitous drop of 14% versus August of 2011. Now thanks to what has to rank as a disappointing tail end of the all-important summer season, 2012's revenue lead over 2011 is down to 3.3%.
Don't feel too bad for Hollywood. Even though domestic box office revenues took a hit at the end of the summer (and attendence appears to be on something of a long term decline), the foreign box office for Hollywood films keeps growing, and with the Chinese market opening up, has the potential to continue expanding. Take this summer's comic book-based films. The Amazing Spider-Man earned 64.6% of its global total outside of North America, while The Avengers brought in 58.7% of its leading worldwide cumulative overseas, and The Dark Knight Rises, which is rolling out slowly overseas has still earned 57.1% of its $1 billion from foreign markets. True the studios don't get as high a percentage of foreign grosses as they do of the domestic tallies, but for some films like Fox's Ice Age: Continental Drift, which earned four times as much overseas as it did here, its overseas popularity is the critical factor in keeping the franchise (whose North American box office has been shrinking) vibrant.
With a new James Bond movie and the Twilight Saga finale in November plus the first of Peter Jackson's Hobbit trilogy in December it would appear that Hollywood appears to have an excellent chance to finish 2012 ahead of 2011, but if this summer has shown one thing to be true it is that a handful of mega-hits do not a successful box office season make--at least not by themselves, and that unexpected events such as the Colorado shootings can change the course of what might have been an exceptionally strong summer at the box office.