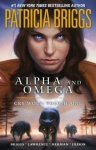 Penguin's Berkley/NAL division will launch InkLit, a new graphic novel imprint, in October to publish original graphic novels and adaptations of prose fiction, the company announced. The new line will be helmed by Rich Johnson, who co-founded Hachette's Yen Press and was VP of Trade Book Sales at DC.
A number of releases have been announced:
Alpha and Omega Vols. 1 (October) and 2 (2013), hardcovers collecting the eight-issue Dynamite Entertainment adaptation of Patricia Briggs' Cry Wolf, the first book in her Alpha and Omega series, which was spun off from Mercy Thompson.
Grave Sight, a collection of Dynamite's adaptation of the first book in Charlaine Harris's Harper Connelly Mystery Series, will debut in January.
Cemetery Girl, co-written by Charlaine Harris and Christopher Golden, with art by Don Kramer, will be released later in 2013.
The Lunatic Cafe, book four of Laurell K. Hamilton's Anita Blake series, will be adapted into a graphic novel. Marvel published earlier Anita Blake adaptations.
Laurell K. Hamilton will also pen a new graphic novel starring Edward, a longtime fan favorite from the world of Anita Blake.
Martin Misunderstood, will be an adaptation of the novel by Karin Slaughter.
An as-yet-untitled graphic novel written by Atlantic editor and cartoonist Sage Stossel.