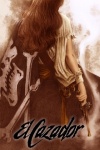 CrossGen Comics is preparing a new high seas pirate adventure comic book series,
El Cazador
, which will be written by Chuck Dixon and illustrated by Steve Epting, one of the company's most acclaimed pencillers.
CrossGen is going to give fans a first look at the new series at this weekend's MegaCon in Orlando.
The launch of
El Cazador
shows that CrossGen is gradually expanding its offerings, which were at one time focused on science fiction and fantasy, to new genres including the historical action/adventure pirate story, which has been the source of many popular pulp magazines, comics, and movies.
In Chuck Dixon, who excels at writing this type of adventure yarn, and Steve Epting, whose style should fit the material like a glove, CrossGen has found an ideal team for its new publishing initiative.
CrossGen has also added another new artist to its growing stable of talent.

Sergio Cariello, who has done numerous titles for DC including Azrael: Agent of the Bat, Batman/Wildcat, and Catwoman/Wildcat, is the latest artist to join the CrossGen fold.

Cariello, who worked extensively with Chuck Dixon at DC, will take over Epting's penciling chores on Crux, which Dixon also writes, starting with issue #28, which goes on sale in July.