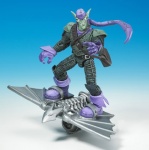 Toy Biz had its best year ever in 2002 thanks to a combination of great sales and lots of industry recognition.
As ICv2 has pointed out, over the past two years Toy Biz's action figures have just kept getting better and better.
Thanks to computer-scanned likenesses their movie figures resemble the actors they are supposed to represent with great fidelity, while in terms of articulation and special features Toy Biz has gone from the back of the pack to industry leader in just a few years.
Last year Toy Biz won the prestigious Boys' Toy of the Year Award from the Toy Industry of America for its
Spider-Man Web Blaster
, which sold an amazing 4.5 million units worldwide.
On the action figure front,
Action Figure Times
, Action Figure.com,
Toy Shop
, and
Tomart's Action Figure Dige
st all anointed Toy Biz as the action figure company of the year or pronounced one of Toy Biz's lines as 'Action Figure Line of the Year.'
For 2003 Toy Biz has added some new technical wrinkles to its action figures, but more importantly the company has three of the hottest movie license tie-ins,
Hulk
, X2, and
LOTR: Return of the King
.
Hulk
The X2 movie opens earlier (May 2), and the X2 figures (see below) look great and will undoubtedly sell well -- but the big buzz at Toy Fair concerned Toy Biz's offerings for Ang Lee's Hulk movie, which opens June 20. The first waves of Hulk toys are already in the stores and reports are that the not-so-jolly Green Giant figures are moving briskly. The Toy Biz Hulk toys have lots of punching and smashing features -- a battle-action Hulk (srp$16.99) comes with a detachable handle that allows kids to make the big guy punch, smash, and kick his way through obstacles, while the Hulk Electronic Rage Cage (srp $24.99) features breakaway walls, roaring sound effects, and an 8' articulated action figure of the Hulk with muscle-pumping action that is just way cool. The Smash n' Go figures (srp $6.99) each come with a different action feature that depicts the mammoth superhero in full rage, smashing a tank or punching through a wall. The 'regular' Hulk Movie Action Figures (srp $7.99) all feature various kinds of special effects (punching, roaring, leaping, lighting up). One of the most interesting of all the figures is the 'Rage 'N Roar Hulk, which comes with electronic roars. This figure moves his mouth realistically when he roars, yet there is no visible articulation joint, which makes for a great effect. The Deluxe Roto Molded Action Figures (srp $9.99) are fully poseable, highly detailed, and come with realistically torn fabric pants. If this isn't enough Toy Biz has a superb 13' Stretchable Roaring Hulk -- and an item that has huge potential -- plastic molded giant Hulk Hands that kids can wear, and which make all sorts of punching and smashing sounds.
X2
The only thing missing from ToyBiz's X2 toys are Professor Xavier and all the comely female X-Men. ToyBiz has placed its emphasis on play value for what it clearly sees as a young male audience, and there will be plenty of action features for them to play with including a slip-on set of retractable Wolverine Claws (srp $12.99), and a Battle Action Wolverine (srp $16.99), a 13' figure with kicking, punching, claw-extending action features controlled from a detachable handle, which can also provide realistic sound effects. All the 6' action figures ($7.99), which come in 2 assortments -- the first ships in April, the second in November -- have special features: Cyclops comes with a Light-up Optic Blast, Battle Action Logan has Tornado Claw-Smashing action, etc. Two superbly sculpted Roto Molded figures (srp $9.99) capture the essence of Wolverine and Nightcrawler and feature fabric costumes. A Light N' Sound X-Jet ($19.99) that includes lights, sound, and a special 6' Wolverine figure, rounds out Toy Biz's lineup for X2.
Lord of the Rings
Toy Biz is still finishing up its award-winning Two Towers line with two more assortments of 6' action figures (srp $7.99) and a Helm's Deep Gift Pack (Aug. srp. $24.99) that includes Aragorn, King Theoden, Gimli, Legolas, and an exclusive Haldir figure. The Return of the King lineup kicks off with a Deluxe Talking Gollum (srp $19.99), an 11-inch bendy wire figure that comes with two 'talk' buttons and two interchangeable heads -- one for Gollum, and one for Smeagol.
Toy Biz is planning to release a group of 10.5' Deluxe Action Figures including Aragorn, Legolas, Gimli, Gandalf the White, and Witchking Ringwraith. These highly detailed figures, though somewhat smaller than their previous 12' counterparts, come packaged with character-specific accessories. There will four series of Return of the King 6' Figures (srp $7.99) plus mounted Aragorn and Legolas figures (srp $19.99)
Marvel Legends & Marvel Studios
The Marvel Legends figures, with some 30 points of articulation, represent a solid value at their $7.99 price point, especially considering that they come with a 32-page comic. The third assortment of this line is already in stores (it contains the Daredevil movie figure), while the fourth wave, which includes Punisher, Elektra, Beast, Gambit, and Goliath, ships in August.
The highly detailed 12' Marvel Studio Line, which features superb sculpting, exquisitely tailored clothing with wired armature coats, and more than 30 points of articulation, is clearly targeted at collectors with an srp of $39.99. Three figures from this line, Blade II, Punisher, and Wolverine, are already out, while the Daredevil figure, which is based on Ben Affleck's likeness and costume from the new film, hits retail in July.
Spider-Man Classics
Three more assortments of Spider-Man Classics action figures ($7.99) are due out in 2003. Each figure comes complete with an important accessory or action features and a key villain, such as Venom, Morbius, Kraven, or the Green Goblin, is included in each assortment.