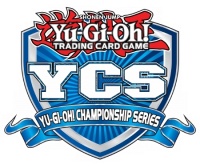 Konami will host a Yu-Gi-Oh! Championship Series event in Tacoma, Washington on November 17th. Friday pre-registrations that submit a deck list will receive an event-exclusive YCS Token Card. All registrants will receive five Abyss Rising Booster Packs. The top 16 or 32 gamers (depending on attendance) will receive invitations to the 2013 World Championship Qualifier. The Main Event winner will win an Ultra Rare version of the Digvorzhak, King of Heavy Industry prize card, and the two runners up will win Super Rare versions.
The top four finishers in the Dragon Duel events for younger players (born 2000 or later) will get an invitation to the 2013 Dragon Duel World Championship Qualifier, along with a Chapion's Medal, a Regional Game Mat, and a Dragon Duel t-shirt.
Other events will include Regional Qualifiers, 3 vs. 3 Team Dueling, Attack of the Giant Card!!, Win-a-Mats, Xyz Symphony Starter Deck Tournaments, Realm of the Sea Emperor Structure Deck Tournaments, and Sealed Pack Tournaments for Battle Pack: Epic Dawn (with exclusive Starfoil pricze cards on at premier events).