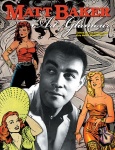 Known for their Modern Masters artist series along with books and magazines on a wide-variety of comics studies topics, TwoMorrows Publishing has announced a hardcover biography of Golden Age illustrator Matt Baker, Matt Baker: The Art of Glamour. At 192 pages with 98 full color illustrations, the print edition will retail for $39.95 and be available on November 28, 2012. A digital version is also available via the TwoMorrows Website for $11.95. The publisher has also included a preview online.
Edited by artist Jim Amash and Eric Nolen-Weathington, Matt Baker: The Art of Glamour profiles the life and career of one of the first African American comics artists. Emerging during the 1940s, Baker became famous for his covers on Phantom Lady. In the late 1950s, Baker joined Stan Lee on Marvel's Two-Gun Kid. Baker also worked on Marvel's Tales to Astonish and Journey into Mystery. Sadly, Baker's career has largely gone unnoticed as the illustrator died in 1959 at the age of 38.
Containing interviews with colleagues and family members, full-color reprints of Baker stories, essays, and a gallery of Baker's art, Matt Baker: The Art of Glamour fills an important gap in the history of comics.
--Nathan Wilson