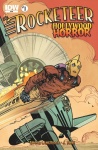 IDW has announced The Rocketeer: Hollywood Horror!, a new Rocketeer miniseries that will begin February 27th.
Written by Roger Langridge, with art by J. Bone (Batman/The Spirit), The Rocketeer: Hollywood Horror! finds Cliff Secord, Dave Stevens' pulp-style hero, in the "picturesque heart of Hollywood's golden age," up to his jetpack-and-helmet in a hardboiled mystery. Adding to the intrigue is his girlfriend Betty, who, of course, is mad at him.
Issue #1 carries a $3.99 cover price for 32 full-color pages, with industry veteran Walt Simonson (Fantastic Four) providing the cover art (he'll draw subsequent covers as well).
Also in February (the 20th to be exact), look for The Rocketeer: Cargo of Doom! ($21.99, 104 pgs.), a hardcover volume collecting Mark Waid (writer) and Chris Samnee's (artist) four-issue miniseries from earlier this year (see "
Mark Waid Writing New 'Rocketeer'
"). In this story, Cliff and company must deal with a mysterious ship that has docked at the Los Angeles harbor and is toting deadly cargo in the form of creatures from lost lands.