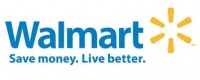 Walmart employees are organizing walk-outs and protests at stores and distribution centers leading up to Black Friday, the organization OUR Walmart announced. Job actions against the nation's largest retailer started last week with walkouts in Southern California, San Leandro, California, and Seattle. Over 1000 protests are planned, including strikes and protests in Chicago, Dallas, Los Angeles, Miami, Milwaukee, Washington DC, Oklahoma, Mississippi, Louisiana, and Minnesota.
Among the issues being protested are Walmart's early openings on Thursday for Black Friday sales, which pull employees from their family celebrations.
OUR Walmart is connected to the United Food & Commercial Workers union, which seeks to unionize Walmart employees. The company has no unionized facilities in the U.S.
Walmart has fired back, announcing an NLRB charge against the UFCW union.