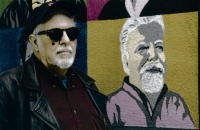 Seminal underground cartoonist Spain Rodriguez passed away at his home Wednesday after a long battle with cancer. He was 72. His work first appeared in underground papers, especially stories starring his creation Trashman. He was also one of the cartoonists that became widely known through
Zap Comics,
along with Robert Crumb, S. Clay Wilson, Robert Williams, and others.
He continued to work until the end, including a well-received graphic novel biography of Che Guevera in 2008 (see "
'Che: A Graphic Biography'
").