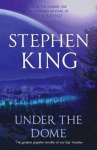 Science fiction specialist Brian K. Vaughan (Y: The Last Man, Saga) has signed on to write a 13-episode adaptation of Stephen King's 2009 novel Under the Dome. After spending a year at Showtime, the project, which is still being produced by Steven Spielberg's Amblin' Entertainment, has been given the green light by CBS and will air next summer. The tremendous success of the History Channel's big summer event series Hatfields & McCoys led to CBS's acquisition of the project based on the King novel.
According to
New York Magazine's
Vulture
blog, Niels Arden Oplev, who directed the Swedish trilogy based on Steig Larsson's
Millennium Trilogy
(
The Girl With the Dragon Tattoo
), is set to direct the first episode of
Under the Dome
.