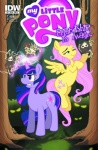 Shipments of some IDW Publishing titles scheduled for release in the last two weeks of 2012 have been delayed into the new year by an eight day strike at the ports of Los Angeles and Long Beach that ended last week. Among the titles affected were My Little Pony: Friendship is Magic #2 and the second printings of My Little Pony: Friendship is Magic #1 and the My Little Pony: Friendship is Magic #1 Complete Box Set, which were originally scheduled for December 19th and will now release January 2nd; and Teenage Mutant Ninja Turtles: The Secret History of the Foot Clan #1, which was originally scheduled for release December 26th and will now street January 9th.
Ten to 14 titles were affected in all, according to the company.
The strike, by clerical worker members of the International Longshore and Warehouse Union, closed ten of the 14 terminals at the two ports from November 27th until December 5th. IDW's shipments from its offshore printer were affected by the disruption. And because Diamond Comic Distributors is not releasing product between Christmas and New Year's this year, there was no time to make up the lost time before the end of the year.