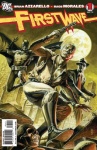 Responding to a question on his Facebook page, DC Comics Co-Publisher Dan Didio stated flatly that a number of pulp characters, whose rights were owned by other publishers, but which had been part of a short-lived "First Wave" line of comic books "are no longer at DC." Designed by Brian Azzarello, the First Wave comics melded vintage DC heroes with their contemporary 1930s pulp characters like Doc Savage, who did not originate at DC. The First Wave line, which debuted in 2010 and lasted for about a year included DC characters such as Batman, Black Canary, Rima the Jungle Girl, and The Blackhawks along with such non-DC pulp luminaries as Doc Savage, The Avenger, and The Spirit.
As Didio explained on his
Facebook
page, the non-DC pulp characters (Doc Savage, The Avenger, The Spirit) are no longer with DC, though Didio did go on to say, "but here's hoping that another publisher gets them into print soon." It is quite possible that some in a position of authority at Warner Bros. or DC might have taken exception to paying royalties on non-DC characters given the mammoth number of characters for which DC already owns the rights.
Since Dynamite Comics has moved aggressively into the publishing of new comic book adventures featuring classic pulp heroes, it would appear to be a natural destination for at least some of the pulp characters involved. Dynamite's
Masks
#1, a crossover series featuring that company's pulp heroes, made the Top 25 in November, one of just two non-Marvel or DC titles in the Top 25 (see "
Marvel NOW! Dominates November Sales
").
One question that this new brings up is the fate of The Spirit Archives. DC Comics has published more than 25 of these superbly-produced hardcover volumes, many of which are out of print. Some of the Spirit Archive volumes are already fetching big prices in the aftermarket, a trend that will likely continue.